An article from
Norwegian SciTech News at SINTEF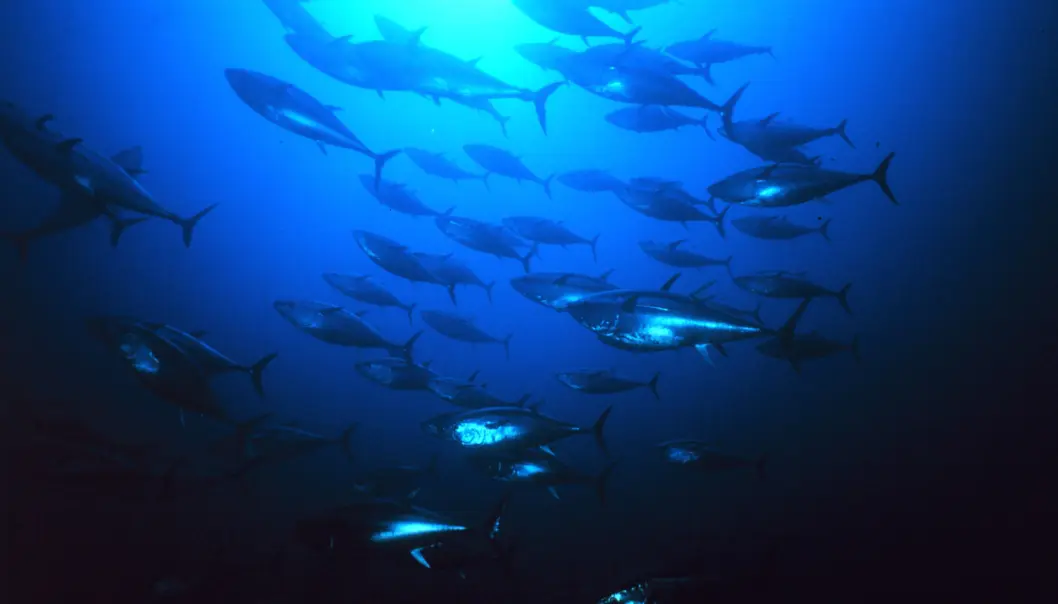 Premiere for intensive production of Atlantic bluefin tuna
Up until now, it has been impossible to produce high-quality feed for the early stages of one of the world's most valuable fish species. Researchers believe that they have managed to crack the code.
Gemini, SINTEF
SINTEF is a broadly based, multidisciplinary research concern with international expertise in technology, medicine and the social sciences.
Tiny crustaceans cultivated in large tanks were on the menu when scientists at SINTEF Fisheries and Aquaculture fed thousands of tuna larvae last spring. The newly hatched larvae apparently enjoyed their novel diet, which is very similar to what they eat in their natural environment.
A large proportion of the tuna fry emerged from their newly hatched phase, something that has never happened anywhere before with juveniles of this species kept in captivity.
The Trondheim scientists carried out the project on behalf of the Norwegian aquaculture company Fortuna Mare. Today, the same group of scientists from SINTEF is taking part in building a unique tuna farm that Fortuna Mare will be operating in Spain.
Fortune Mare's managing director Jan-Helge Dahl explains that the company is about to start commercial farming of tuna, and that everyone who has tried this before has struggled to get the fry to survive the early stages of life.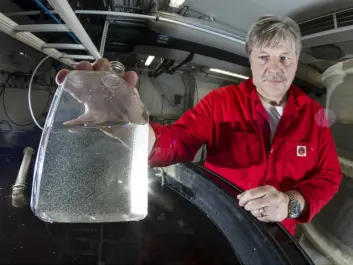 "The feed technology that SINTEF has developed is essential to the success of what we are trying to do," says Dahl.
Under threat and in great demand
Atlantic bluefin tuna is on The IUCN Red List of threatened species. This fish is also highly valuable in terms of price per kilo: It is the highest priced fish in the world that is either commercially fished or cultivated in an aquaculture system.
Norwegian waters are too cold to farm this huge relative of the mackerel. Both Spain and Japan have long been farming tuna, and so far their industries have been based on catching young fish and raising them to market size in sea cages.
"More intensive production has been limited because no-one has managed to ensure a reliable supply of fry. This is related to the fact that it has been impossible to produce high-quality feed for the early stages of tuna, but today we believe that we have managed to crack the code that will enable us to do so," says SINTEF research scientist Jan Ove Evjemo.
Need live food organisms
While salmon fry can eat formulated diets from hatching, marine species like tuna need a completely different feeding strategy. They need live food organisms as first feed.
Some have tried to solve this problem by bringing up tuna fry in semi-enclosed seawater pools, others by pumping seawater that contains the tuna's natural prey organisms into tanks on dry land, or have used traditional live food organisms such as rotifers and Artemia. According to Evjemo, all such attempts to date have failed.
"To obtain predictable production of tuna fry, we believe that the newly-hatched fry need high-quality live feed organisms that are raised in a controlled land-based system. Others have tried to achieve intensive production of tuna fry by cultivating a substitute for nature's own feed. But so far, all of these attempts have failed, because their nutritional value has been far from sufficient, and this has not been taken into account."
Instead, Evjemo and his colleagues have offered the tuna fry cultivated Acartia tonsa, a widely distributed copepod that they have been cultivating in the laboratory for many years. In the natural environment, copepods are an important part of the diet of both tuna larvae and fry.
Not done before
Recent studies have shown that SINTEF's cultivated copepods are suitable as live feed for several marine species like cod, lobster and the fry of ballan wrasse; the last is a species used by the salmon industry to clean lice from salmon.
When the SINTEF scientists heard about Fortuna Mare's tuna-farming plans, they immediately contacted the company.
"In the laboratory trials that followed, we got large groups of newly-hatched tuna larvae to survive the critical three first weeks of life and, just as importantly, to grow into correctly developed fry. No-one has managed to do this before," says Evjemo.
Certain of success
Managing director Jan-Helge Dahl says that the tuna hatchery will be built in Spain and operated at first as a test plant. The company's Spanish subsidiary will be responsible for running the hatchery, and has already obtained all the permits needed to transfer the fish to sea-cages when they have reached a suitable size.
"We realise that there may be setbacks such as outbreaks of disease, when we scale up the processes that have only been tested on laboratory scale until now. But such things are normal in cultivating new fish species. All in all, we are quite certain that we will succeed," says Dahl.
"In the starting phase, we expect to get a price of between 30 and 50 euros per kilo. Early success will mean a good financial return, because there is currently a large gap between price and production costs," says Dahl.
External links
Related content