This article was produced and financed by

Nofima The Norwegian Institute of Food, Fisheries and Aquaculture Research

- read more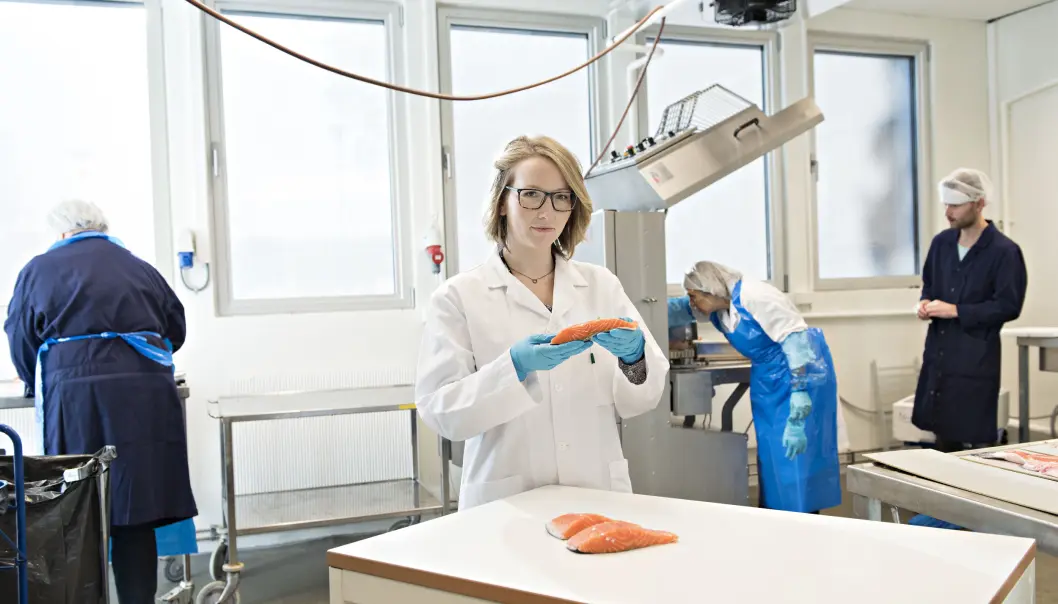 More omega-3 in salmon through breeding
A new doctorate shows it is possible to change the fatty acid composition of farmed salmon through breeding. It can further help to utilise omega-3 in feed more effectively.
"Uncovering the metabolic differences between fish with high and low omega-3 levels can help farmed salmon utilise omega-3 in feed more effectively", says Siri Storteig Horn.
The Nofima-researcher recently defended her PhD thesis regarding research on breeding and omega-3 in Atlantic salmon at the Norwegian University of Life Sciences (NMBU).
Previous studies have shown a potential for selective breeding to increase overall levels of omega-3 fatty acids in salmon, but knowledge about the connection between individual omega-3 fatty acids and other traits has been lacking.
This is what she has been working intensely on for the last four years, Siri Storteig Horn, who grew up right next to the famous Målselva salmon river in Troms in Norway.
Genetic differences
The overall goal of her doctoral thesis was to identify the genetic basis and underlying biological mechanisms associated with omega-3 content in salmon fillets.
Genomics of omega-3
Siri Storteig Horn's doctoral research is part of the "Genomics of omega-3 in Atlantic salmon" project.
The four-year project was funded by the Research Council of Norway and was a collaboration between Nofima, NMBU, the University of Southampton and SalmoBreed.
Professor Theo Meuwissen from NMBU and senior scientists Anna Sonesson and Bente Ruyter from Nofima, with their respective expertise in genetics and nutrition, have been the doctoral supervisors.
It has resulted in four pieces of research work, three of which have been published.
Storteig Horn has studied families of farmed salmon that lived under the same conditions and were fed the same diet throughout life, so that environmental factors were reduced to a minimum.
There was large individual variation in the content of the omega-3 fatty acids EPA and DHA in the muscle tissues of the fish, and both EPA and DHA were hereditary properties, with heritability at 9 and 26 percent, respectively.
"This means that 9 and 26 percent of the differences between salmon are due to genes. Therefore, it is possible to change the fatty acid composition in salmon muscle by breeding", the scientist explains.
Useful in breeding
Storteig Horn and colleagues have also seen that omega-3 levels in muscles are connected with fat deposition and metabolic processes such as carbohydrate metabolism, and with genes related to muscle growth.
In addition, they have identified a region on the salmon genome that is associated with omega-3 level variation, where they can continue to try to find which genes govern the omega-3 content of salmon fillets.
"This can help us understand why some salmon have more omega-3 than others, and can also be useful in breeding", says Storteig Horn.
Reference:
The Genetics of omega-3 fatty acids in fillets of Atlantic salmon (Salmo salar L.) NMBU 2019 (ISBN 978-82-575-1621-5)Doctoral Thesis (2019:61)