THIS ARTICLE/PRESS RELEASE IS PAID FOR AND PRESENTED BY the
Institute of Marine Research
- read more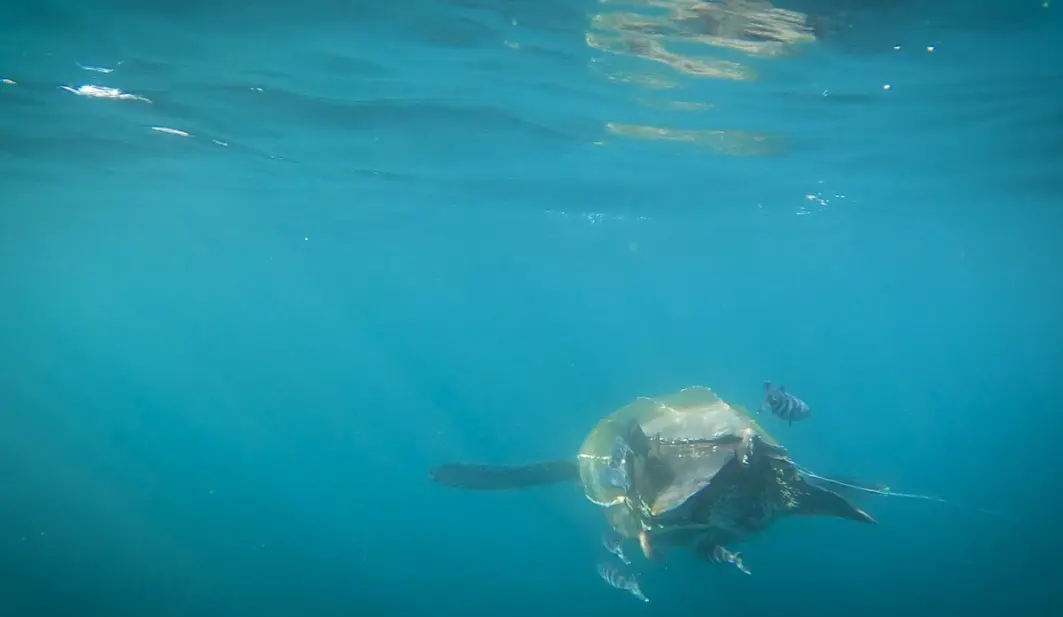 Researchers met a leatherback sea turtle at the Norwegian coast
Watch their unique footage of the rare encounter.
Our team of researchers was busy satelite tagging bluefin tuna on the Norwegian west coast, near Stad.
Probably the first underwater footage from Norwegian waters
But while searching for the world's larges tuna species, something very rare caught their eyes last Friday: A leatherback sea turtle – the largest of the sea turtles! It was not alone, but closely followed by a tropical entourage.
"We got to the point of shaking from excitement when we saw the exotic, almost two metre long creature on the surface," says researcher Keno Ferter, leader of the tagging project. He is aboard the research vessel 'Emmy Egidius'.
"From a distance, we first assumed it was a whale, then a basking shark. As we approached, we considered a sunfish before we realised what we were dealing with and quickly found a GoPro," colleague Otte Bjelland says.
See their footage: (Media? Download the video without the graphics here.)
An endangered species globally
Bjelland is a taxonomist, working frequently with identifying exotic fish. According to him, the turtle and its' friends are rare visitors in Norway.
"The leatherback is endangered and primarily roams tropical and subtropical waters. It is rare in general, and very rarely documented in Norwegian waters, although it can swim far in its hunt for jellyfish," he says.
The accompanying fish are most likely pilotfish and barrel fish. Both are known for finding a host, like a shark, turtle or drifting wreckage, to follow along.
Since the barrel fish belong on the western side of the Atlantic, there is reason to believe that the sea turtle has crossed the ocean on its' way to Norway.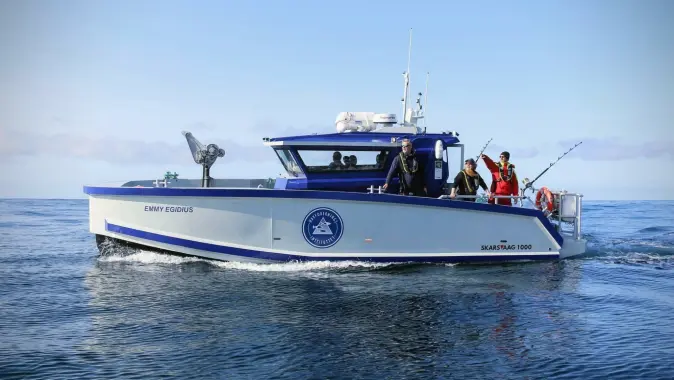 Probably won't freeze
Espcially the pilotfish likes tempered waters. How will our excotic guests fare in the Norwegian winter?
"Research shows that the leatherback sea turtles have a good system to keep them warm, making them able to survive relatively cold water. They generate heat through movement, storing it in a special battery. Their body temperature is therefore considerably higher than the surrounding sea water. For the tropical fish however, things can get a bit chilly," Otte Bjelland says.
According to him, there are many wonders at sea for those who look.
"While searching for bluefin tuna in our rapid research vessel, we are constantly scanning the horizon with our eyes. We cover large areas. It's incredible what you can discover," says Bjelland before he has to leave. A school of bluefin has just appeared.