An article from
University of Oslo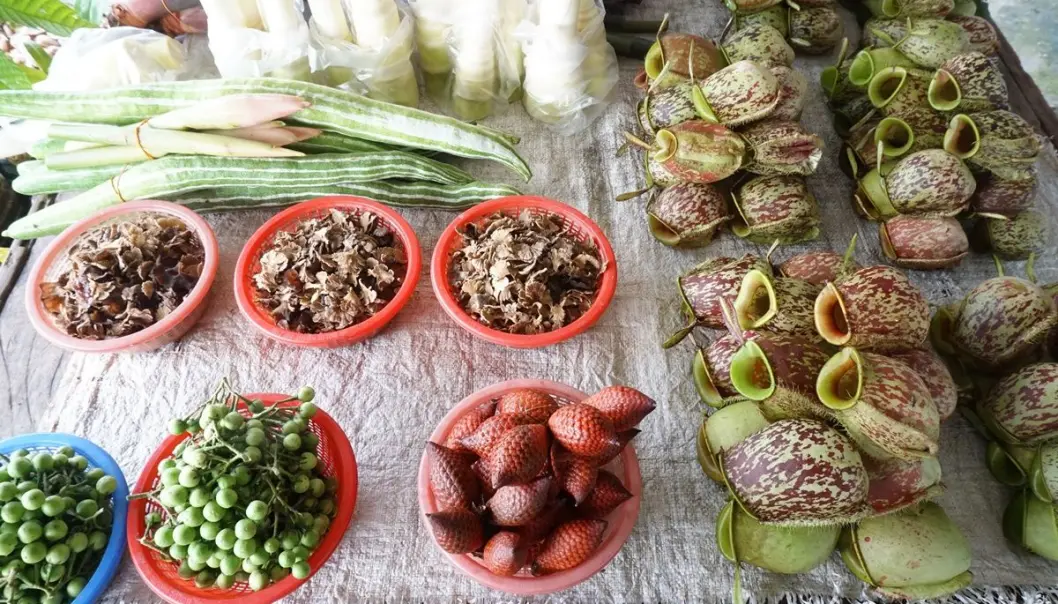 Hunting for traditional food in social media
Carnivorous plants of Borneo areon the menu of local tribes who steam sticky rice snacks inside.
University of Oslo
The University of Oslo is Norway's leading institution of research and higher education.
"I had never ever heard of the Nepenthes pitchers being used as food before," says ethnobotanist Hugo de Boer from the Natural History Museum, University of Oslo.
"Older sources reported ceremonial use of Nepenthes plants, but not for other purposes."
Nepenthes is a family of carnivorous plants native to Asia and Australia, with the largest distribution on the islands Sumatra and Borneo.
Social web sites
De Boer and his fellow researchers were originally looking into how climate change would affect highland Nepenthes species, when they stumbled upon information that some species were used for food.
"The two species most commonly used for food, Nepenthes ampullaria and Nepenthes mirabilis, do both belong in the lowlands. Neither seem to be threatened by being harvested and used for food," says de Boer.
By searching on the social networks Flickr, Pinterest, Facebook and Youtube for peruik kera, the local name for the plant, the researchers came in contact with people who knew these traditional snacks. Not only that, the researchers also got an impression of the geographical distribution of the snack.
Supplementary questions
"Almost everyone we came in contact with belonged to one of the two tribes Bidayuh and Kadazandusun in the Malaysian part of Borneo. On markets in these areas, it is common to find filled Nepenthes," explains de Boer.
Social media revealed that the snack was quite popular in Malaysian Borneo. This brought Rachel Schwallier, of Naturalis Biodiversity Center in Leiden, to conduct surveys there - asking questions about harvesting, preparing and selling of the snack. She also had the opportunity to assist in preparing the snack. Contact via social media, allowed for additional experts with knowledge of the snack to answer an online questionnaire.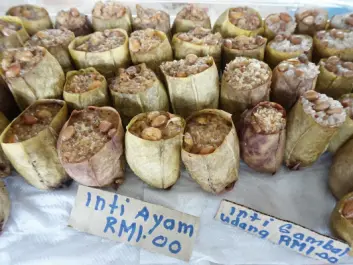 "Nepenthes pitchers were filled with sticky rice and mixed with vegetables and/or meat. They are the perfect size for a light meal, and the packaging makes them handy to transport."
A certain aroma
De Boer adds that before the arrival of modern kitchen, the filled Nepenthes pitchers were packed in mud cooked directly on coals. The sterility of the unopened pitchers might have contributed to safety of the cooking vessel.
Being carnivorous, the Nepenthes pitchers contain a digestive liquid. The researchers wanted to investigate whether this liquid influenced the rice in some way during preparation of the snack.
"But we were unable to discover any such effect. If there is any effect, it is probably only a certain flavor," smiles de Boer.
International trend
While traditional plant medicine is being displaced by better and safer modern medicines, de Boer believes that the use of Nepenthes pitchers is an example of how traditional food has a firmer local standing.
"If anything, our impression is that interest is rising rather than waning and that social media plays a part."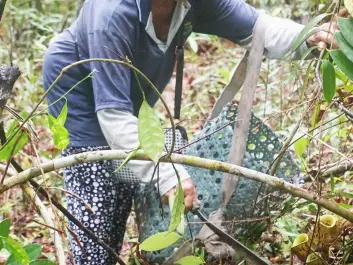 "Furthermore, edible packaging is an international trend. The US firm Wikipearl has received broad acclaim for its eco- and health-friendly products."
Should you wish to try this traditional dish yourself, Nepenthes ampullaria is not too hard to locate in garden stores, and the recipe can be found here:
Recipe
(as shown to Rachel Schwallier by an indigenous Bidayuh family)
Rinse,trim and fill the pitchers halfway with soaked Thai white sticky rice. To this, add very well-salted coconut milk until the rice is covered. Place the pitchers into a steam pot to cook for about an hour.
On the markets, additions of chicken or spiced shrimp are often added to the center of the rice, and they are often beautifully garnished with peanuts or pandan leaf.
--------------------
Read the Norwegian version of this article at forskning.no
Scientific links
External links
Related content