THIS ARTICLE/PRESS RELEASE IS PAID FOR AND PRESENTED BY
University of Stavanger
- read more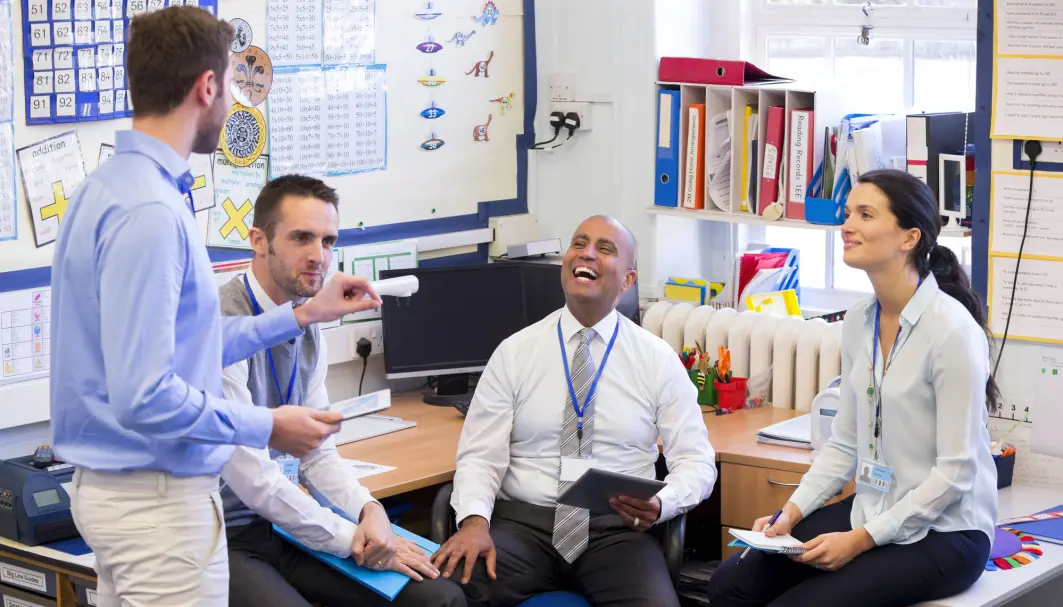 Good collaboration with colleagues affects how a teacher deals with bullying
A new study shows how good collaboration and communication among the teaching staff in a school will have a positive effect on how a teacher responds to bullying.
There is little research that says anything about a school's collegial climate, that is, the quality of collaboration and communication between teachers in a school.

Could this prove to have an impact on how teachers react to bullying taking place?
Together with international colleagues Lenka Kollerová, Petr Soukup, and Dagmar Strohmeier - professor Simona Caravita at the Learning Environment Centre, University of Stavanger has been involved in a study where they have looked into this.
"It's been unfortunate that we've lacked this research when we know teachers can help reduce bullying by responding actively to bullying. That's why this study was initiated. It is interesting to take a closer look at the Czech Republic and this context considering that Czech schools are required to carry out anti-bullying programmes and interventions but still lack research-based programmes and policies," Caravita says.
Good collegial support is important
From previous research, we know that the collegial environment plays an important role in how well teachers practice their profession. This study examined whether teachers' perception of the collegial environment at the school, such as the collaboration between teacher and management, and collaboration and communication among teachers had an effect on the active response of teachers to bullying.
In the study, the researchers have controlled for gender, work experience, empathy and the sense of coping ability among teachers. The teachers in the study were asked questions about how they dealt with bullying situations and what the teaching staff was like.
The intention of the study was to find out how teachers dealt with bullying situations among pupils and whether that changed according to how much support they felt they received from colleagues. The researchers wanted to examine how the environment among the teaching staff affected how teachers dealt with bullying.
Good collaboration had an impact
In the study, the researchers also looked at the teachers' perception of the teaching environment as well as the school's own perception of this. Overall, 740 teachers from 118 different schools in the Czech Republic participated in the data collection.
"What we found, and which could be said to have the greatest effect, was that a good collaboration among teachers largely led to the teacher implementing authority-based measures, as well as the perception of a good communication among teachers often led to the individual teacher having an intention to follow up work with the perpetrator of the bullying", says Caravita.
She believes this shows that it is important to support good collaboration and communication among teachers in schools — including when it comes to following up on bullying cases. This is probably the first study that can confirm this.
Experienced teachers more often deal with situations
It also emerged from the study that, with regard to the qualities of teachers at an individual level and how they dealt with bullying situations, it was only their experience as teacher that counted. This is in line with the finding that the longer the experience the teacher has, the more likely it is that the teacher will not ignore what is happening but will rather make an effort to stop the bullying.
"The findings from the study confirm that one can benefit from using more experienced teachers as mentors when it comes to actively working on the problem of bullying in schools," Caravita says.
The professor says that while there may be different school systems in different countries, there is a high probability that similar results will be obtained in other contexts.
"Feeling that one has support among colleagues is important also for teachers in other countries — so I have every reason to believe that we would have obtained quite similar results in a different setting — for example in the Norwegian context. This is something that would have been interesting to explore further," she says.
Reference:
Kollerová et al. Teachers' active responses to bullying: Does the school collegial climate make a difference?, European Journal of Developmental Psychology, 2021. DOI: 10.1080/17405629.2020.1865145 Abstract.