An article from
Norwegian University of Life Sciences (NMBU)
Chinese boycott of Norwegian salmon industry unsuccessful
China's boycott of Norwegian salmon has affected Chinese consumers more than Norwegian salmon exporters. Importers are finding workarounds, with the Chinese receiving poorer quality and more expensive Norwegian salmon.
Norwegian University of Life Sciences (NMBU)
NMBU's research is enabling people all over the world to tackle the big, global challenges regarding the environment, sustainable development, how to improve human and animal health, renewable energy sources, food production, and land- and resource management.
Xianwen Chen's doctoral dissertation work has involved consumer preferences, market simulations and international trade in fish. He has in particular researched seafood markets, consumer preferences and trade with China and France.
Xianwen Chen has researched the export of Norwegian salmon to China in the work for his doctoral dissertation. China has boycotted salmon from Norway since the award of the Nobel Peace Prize in 2010. Interviews with Norwegian exporters, Chinese importers and representatives of the Norwegian Seafood Council, as well as analyses of regional and international trade statistics, confirm the "salmon campaign" against Norway.
"People in the fish trade have nevertheless found methods to get around the sanctions, including by bringing salmon into China via Hong Kong and Vietnam," says Chen. This solution makes the products both more expensive and reduces their quality. In reality, Norwegian salmon has not lost marketshare in China, but rather it has increased a bit since 2010. However the Chinese are paying a higher price for poorer Norwegian salmon.
Seafood ecolabel for the French
In a different study, French consumers were presented with products that were ecolabelled with two different labels: the Marine Stewardship Council's (MSC) label for wild fish from sustainable fisheries and a French label for organic fish farming (Agriculture Biologique - AB). The consumers were willing to pay roughly 10 percent more for ecolabelled products than for unlabelled ones, and slightly more for those labelled with AB than for MSC.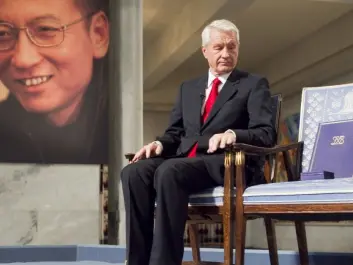 "This can probably be explained by the French AB label representing organic fish farming being more familiar to people," says the PhD candidate.
In another consumer study, French consumers received negative information about the production of fish regardless of whether it was labelled with the MSC label, the AB label or had no label. The French consumers then turned out to not actually fully trust the ecolabels.
"When they had to choose between seafood products after having received negative information about the environment where the fish was caught or raised, then they were less willing to pay extra for the ecolabelled products," says Chen.
Chen has used statistical models to simulate the French seafood market under different scenarios. A highly regarded statistical model was calibrated against the observed market in 2008 and subsequently used to predict how the market would look under varying product inflows, prices and consumer preferences. The methodology was checked against market data from the preceding years (2005 – 2007).
-------------------------------------
Read the Norwegian version of this article at forskning.no
Scientific links
External links
Related content