An article from
Norwegian SciTech News

at NTNU

Solar-powered bread baking in Ethiopia
An oven powered by solar energy is nothing new under the sun. However, the long-lasting high temperatures make this one unique.
Gemini, NTNU Trondheim - Norwegian University of Science and Technology
NTNU is the second largest of the eight universities in Norway, and has the main national responsibility for higher education in engineering and technology.
In Ethiopia, 85 percent of the people do not have access to electric power.
To make matters more difficult, only three percent forested areas left in the country, down from 35 percent in 2000: Firewood is a rare commodity.
In other words, to cook food is a challenge for many.
But what if people got the opportunity to make food without using neither coal, wood, oil nor gas?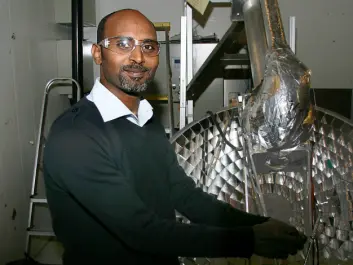 This can become a reality if students at Norwegian University of Science and Technology (NTNU) in Trondheim, Norway, succeed in commercializing an oven powered by the sun itself.
Asfafaw Tesfay came from Ethiopia to Norway in 2008 to develop a system based on solar power for his home country.
High temperatures
It is the first of its kind. The oven can reach a temperature of 250⁰C (482⁰F), which makes it well adapted to the country's food traditions and resources.
"This oven has several advantages compared to other solar powered ovens on the market," explains student Even Sønnik Haug Larsen. Also part of the project.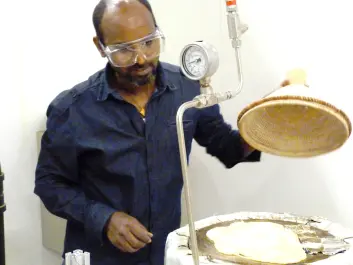 The biggest difference is that it can reach a sufficiently high temperature and keep that high temperature over time. As long as 24 hours.
"This makes it perfect for baking injera, which most people in Ethiopia eat three times a day," Haug Larsen says.
Injera
For years, scientists across the globe have tried to develop solar powered ovens with different qualities aimed at developing countries.
The problem has been that these solutions have not been optimized with the needs of the users, for instance in Ethiopia, in mind:
Solar powered oven
Heat from the sun is transferred to a container with salt chemicals.
Container stores temperatures of 220⁰C (428⁰F) for 24 hours and cooking temperatures over 100⁰C (212⁰F) for 48 hours.
Constructed by three parts: A satellite dish that reflects sunlight, a tube that transfers the concentrated heat and a heat container with a cooking plate.
The ovens have not reached sufficiently high temperatures to make injera. Furthermore, they are unable to store the heat in order to make it possible to make food also in the evenings or at night – when the sun has set.
"With these [other] ovens you have only been able to boil rice or vegetables and such," says Haug Larsen.
But that is not what most Ethiopians eat. They eat injera, a sort of flatbread which needs to be baked at a temperature of 200–250⁰C (392–482⁰F).
In Ethiopia
The inventors travelled to Ethiopia in January to get in touch with customers and potential partners. They also wanted to see if it is possible to produce the oven locally in Mekele, the home city of Asfafaw Tesfay, the man behind the idea.
The connection between Asfafaw and Ethiopia is the main reason why they are trying to establish the product here first. The students see a potential in organisations working in the country, and in schools, universities, hospitals, bakeries, restaurants and hotels.
"Later it might be possible to make the oven accessible also for everybody," says Haug Larsen.
External links
Related content