THIS ARTICLE/PRESS RELEASE IS PAID FOR AND PRESENTED BY the
Institute of Marine Research
- read more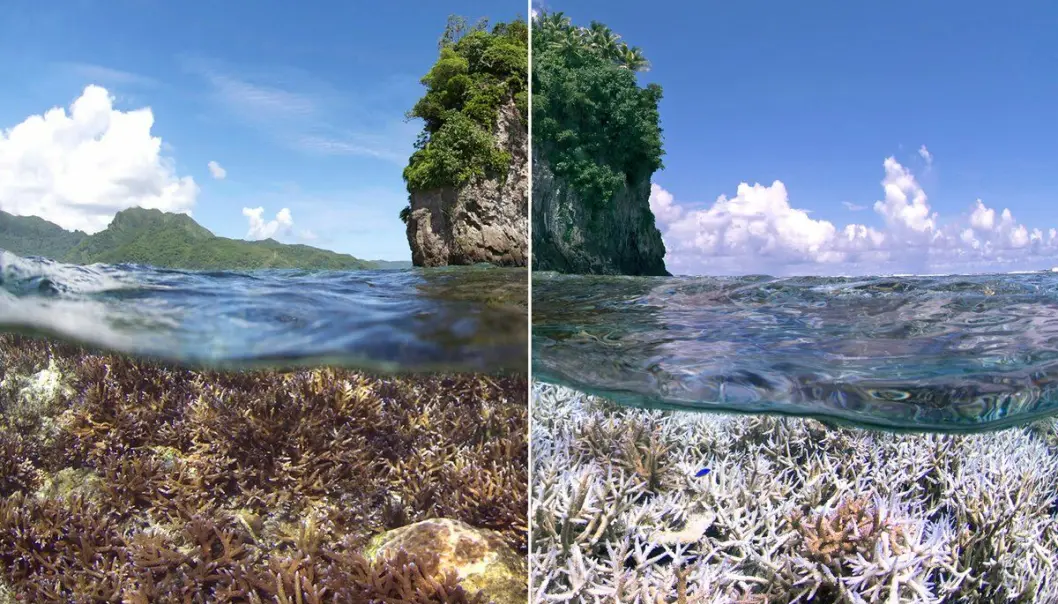 Heatwaves in the ocean are ramping up, and causing massive disruptions, also on land
Marine heatwaves are becoming more frequent and intense due to climate change. This has wide-ranging impacts for ocean-human interactions, researchers find.
Just like societies on land, ocean ecosystems can be hit by heatwaves. Marine heatwaves – periods of unusually high seawater temperatures – can have wide-ranging impacts on local ecosystems and economies.
In a new study, researchers have evaluated the social and economic impacts of 34 marine heatwaves that occurred in different areas over the past 25 years.
Identified 150 impacts
"We found that each and every one of these marine heatwaves were associated with several socio-economic impacts. In total we documented more than 150 individual impacts spanning all major global oceans," explains Thomas Wernberg, a researcher at the Institute of Marine Research (IMR) and professor at the University of Western Australia.
"In short," he adds, "marine heatwaves – which have been clearly linked to human-caused climate change in other research – have occurred everywhere and with substantial disruption to human-ocean interactions."
Impacts included disruption of fisheries resources, mass mortalities, collapse of ecosystems, loss of biodiversity and shifts in abundance and distribution of marine species.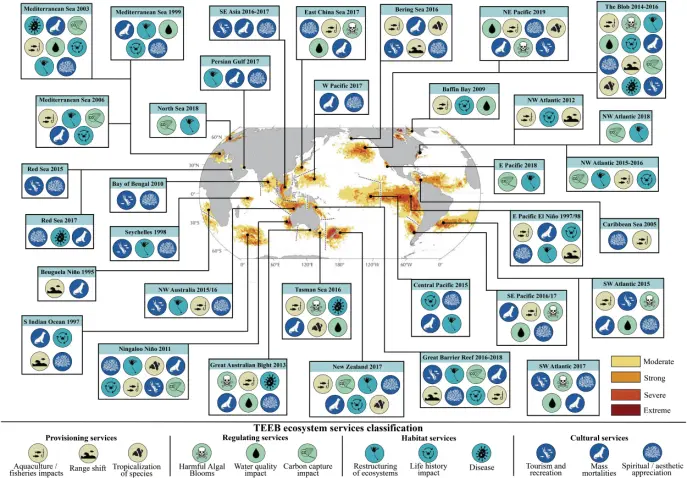 Algal blooms and coral bleaching
One recent marine heatwave included in the study occurred in the Gulf of Alaska and caused a population decline and low recruitment of Pacific cod. This led to the closing of the commercial cod fishery, valued at US $103 million per year, for the 2020 season.
Another marine heatwave in the Southeast Pacific Ocean led to mass mortality of farmed salmon in Southern Chile due to harmful algal blooms, with an estimated export loss of US $800 million.
Marine heatwaves have also led to bleaching and mass mortalities of corals in Australia's Great Barrier Reef, as well as other reefs in the Southeast Asia seas.
Some heatwaves have positive as well as negative impacts. For example, a heatwave in the Canadian Arctic led to increased cod reproduction in 2009. As the research done by Wernberg and colleagues shows, however, the net effect of marine heatwaves on ecosystems and economies is negative.
Heatwaves and climate change
Marine heat waves have occurred more and more often in the last century. Between 1982 and 2016, the frequency increased by 50 percent. In step with increasing climate change, it is estimated that the frequency of marine heat waves will continue to increase throughout the century.
"The findings in our study clearly indicate that a future with more frequent and intense marine heat waves will be a future with many negative effects on the ecosystem services we currently enjoy from the ocean and coast," says Thomas Wernberg.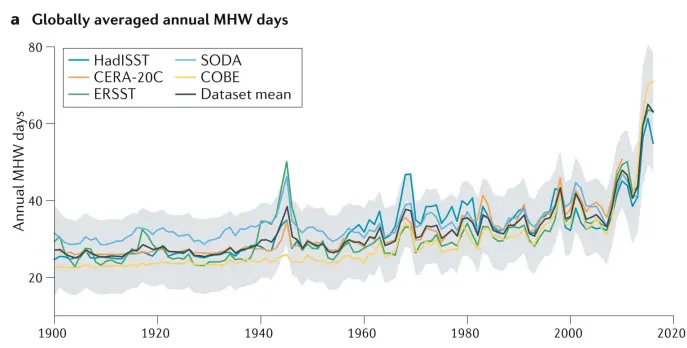 IMR researchers are currently studying the impacts of marine heatwaves on Norwegian ecosystems. Previous studies have found a connection between heatwaves and the loss of sugar kelp in southern Norway.
Besides mapping the problem, researchers are also working on solutions to preserve and rebuild ecosystems.
"For example, we are working on developing new methods for large-scale restoration of kelp forest and to identify new, more temperature-tolerant kelp varieties," Wernberg explains.
References
Smith, Kathryn E., Michael T. Burrows, Alistair J. Hobday, Alex Sen Gupta, Pippa J. Moore, Mads Thomsen, Thomas Wernberg and Dan A. Smale. "Socioeconomic impacts of marine heatwaves: Global issues and opportunities". Science, 374-6566 (October 2021). Link: doi.org/10.1126/science.abj3593
Thomas Wernberg, Dan A. Smale, Thomas L. Frölicher and Adam J.P. Smith."Climate change increases marine heatwaves harming marine ecosystems". ScienceBrief Review (October 2021). Link: doi.org/10.5281/zenodo.5596820
Filbee-Dexter, Karen, Thomas Wernberg, Sean P. Grace, Jonas Thormar, Stein Fredriksen, Carla A. Narvaez, Colette J. Feehan and Kjell Magnus Norderhaug. "Marine heatwaves and the collapse of marginal North Atlantic kelp forests". Scientific Reports 10, art.nr. 13388 (2020). Link: doi.org/10.1038/s41598-020-70273-x