An article from
University of Oslo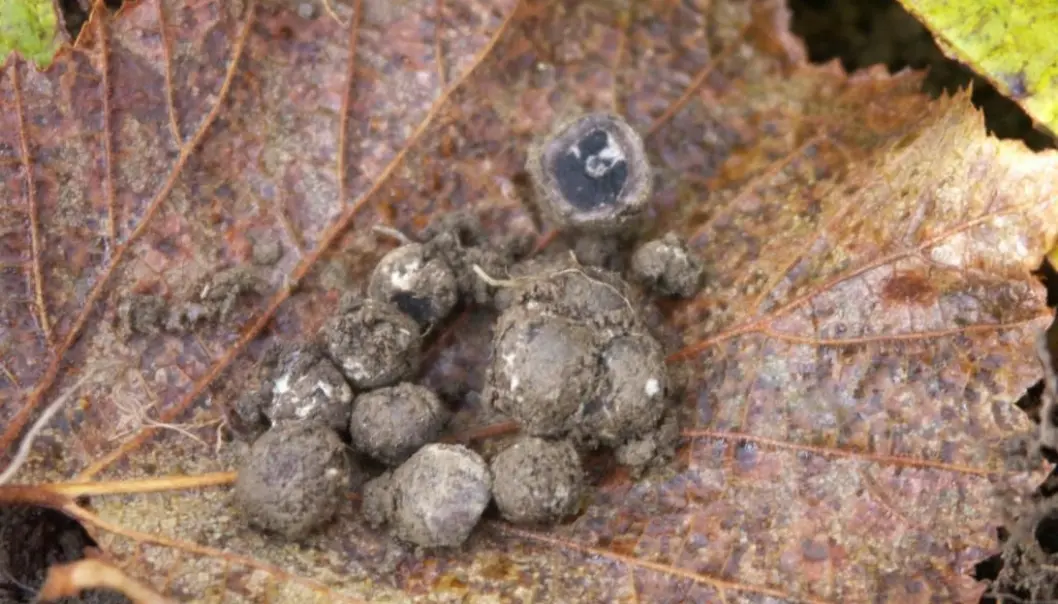 Truffle hunting in the northern underground
Three species never before found in Norway is the outcome so far for the truffle hunt this year. But the coveted delicacy summer truffle is yet to be found.
Denne artikkelen er over ti år gammel og kan inneholde utdatert informasjon.
University of Oslo
The University of Oslo is Norway's leading institution of research and higher education.
"For us, the main motivation is scientific interest. Little research has been done on truffles in Norway," says Anne Molia from the Natural History Museum (NHM), acting project leader.
"But what everyone else wants to know, is whether we've found the delicious food truffles. Alas, the answer as yet is no."
4000 Euro per kilo
In everyday language, "truffles" usually means food truffles. Belonging to the genus Tuber, they are known to have been consumed by the aristocrats of ancient Egypt, Greece and Rome.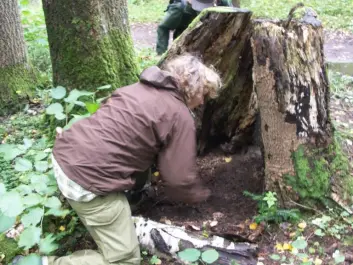 Truffles remain an expensive mouthful today. The summer truffle that Molia dreams of locating, can cost about 650 Euro per kilo. The most sought after kinds can approach, and sometimes even surpass, 4000 Euro per kilo.
The price apart, the truffle's reputed afrodisiac qualities add to its aura of mystery and allure. The titillating associations probably derive from the truffles' similarity to a human testicle in size and shape.
Irresistable scent
To Molia, however, the term "truffles" extends to all kinds of subterranean fungi. Along with her NHM colleagues Anders K. Wollan and Karl-Henrik Larsson, she has received funding from The Norwegian Biodiversity Information Centre for a project named "Truffle hunting in Norway", scheduled to last two years.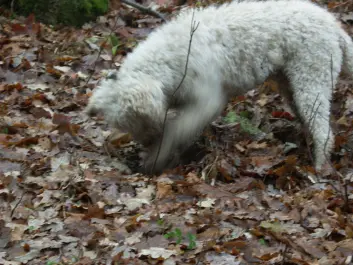 The subterranean fungi have gone underground as an evolutionary strategy to survive periods of drought. This has necessitated an alternative way of spore dispersal.
The solution has been to emit a strong scent, irresistible to specific animals. The latter will dig up and eat the fungus, and when the spores are excreted, the dispersal is accomplished. Different species of truffles attract different species of animals.
New species
"That's why it is much easier to train a dog to search for truffles than for drugs, chanterelles etc. It is inherit in their nature", explains Molia. "In fact, the most important thing to teach a truffle hunting canine is to not eat what it finds!"
At first, truffle hunting seems a daunting task. How can one find something that's completely hidden below ground?
Molia explains that you need to learn how to read animal tracks, and a certain amount of ecological knowledge is also required. But also a little training helps people locate more truffles.
Despite finding three new species for Norway, in addition to two new findings of a species located only once earlier as far back as 1959, Molia is not entirely happy with this year's hunt.
Warm and gry autumn
Truffles are adapted to drought, so a warm and dry autumn will yield both more species and more individuals of each species. But warm and dry is something this autumn has not been, according to Molia.
She hopes that 2012 will bring a better autumn, and that the elusive summer truffle will eventually surface.
"It is found in the Baltic Sea islands of Öland and Gotland, and in Denmark, Germany and Poland. We hope to find it in Norway too, if we search in the right places – and have a bit of luck", she says.
--------------------------------------------------