This article was produced and financed by
BI Norwegian Business School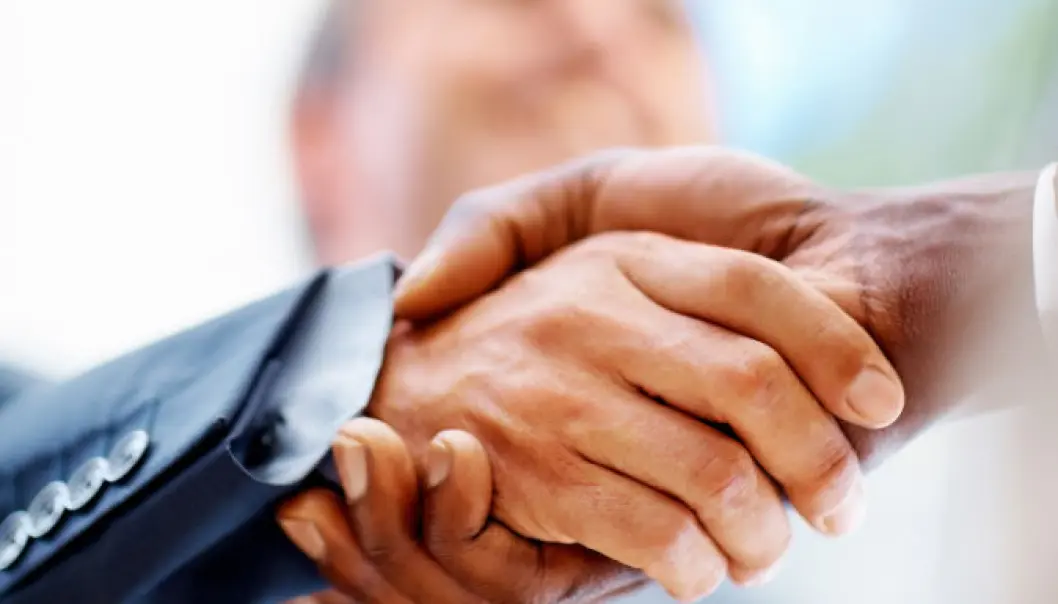 Business friendships are fragile
Companies that establish friendly relationships with their customers can create expectations they are unable to deliver on, a new study shows.
Denne artikkelen er over ti år gammel og kan inneholde utdatert informasjon.
BI Norwegian Business School
BI is a private and independent business school in Norway.
Nurturing relationships is a popular strategy for many enterprises.
Good relations can pay off in the form of high customer satisfaction, stronger customer loyalty, increased sales and cost reductions.
Many companies establish close relationships with their customers, with some elements that may resemble friendship. When the company builds close relations with customers, it also creates an expectation with the customers that they will be treated accordingly.
These customers will seek to terminate the relationship and spread negative information about the company if they perceive that the company acts in pure self-interest, Marit Anti has discovered in her doctoral thesis from BI Norwegian Business School.
Through the eyes of the customer
In her doctoral project, Marit Anti carried out a study of how customers perceive relations with the enterprise selling goods and services.
Using qualitative interviews and experiments, Anti has identified various dimensions that separate close relations to the customers – from actual friendship to relationships that are not as close.
When business is the sole concern, there is no focus on the social aspect of the relation. The customer is concerned with satisfying her/his own interest, and does not expect the company to be focused on anything but its self interest.
In actual friendships, the rules are completely different. You expect friends to care about you without an agenda other than what is implicit in a friendship.
Friends should be unselfish (altruistic) and not motivated by self interest, even if the relationship is between a customer and a company.
Commercial friendship
On the scale between actual friendships and purely business-oriented relationships, Marit Anti also identifies so-called commercial friendships.
These are close relationships with the enterprise, where business is conducted with elements from actual friendships. Such relations make the customer expect that the enterprise to act as a friend and acts in the best interest of the customer.
These relationships still carry with them somewhat lower expectations than actual friendships. And it is this that could have grave consequences when the customer realises that the enterprise acts in its own self interest.
Although the customers in commercial friendships know that companies exist to make money, they react strongly when the enterprise acts on pure self interest.
Breaking off the relationship and spreading negative rumours
In her experiments, Marit Anti has investigated how customers with different relations with the enterprise react to the enterprise implementing price hikes that appear motivated by of self interest.
Companies that build commercial friendships with their customers may experience that customers react strongly when they perceive that the company acts in pure self interest.
They see this as a breach of the established social norms, and reactions include both anger and disappointment. These customers want to break out of the relation and they have a desire to spread negative rumours about the company to others.
"Companies that develop commercial friendships with their customers must be aware of the social norms they establish and activate in these relationships," says Anti.
Social norms create expectations about future behaviour from the viewpoint of the customers. By activating norms tied to the social, non-business sphere, the customer expects a certain type of behaviour in sellers and organisations.
"They will not always be able to fulfil these. Violating these more friendship-like norms could have detrimental effects for the sellers," says the market researcher.
Anti has developed a framework for mapping customer expectations so that sellers will know the expectations, and thus the demands, of the customers.
Scientific links
Related content