An article from
The Oslo School of Architecture and Design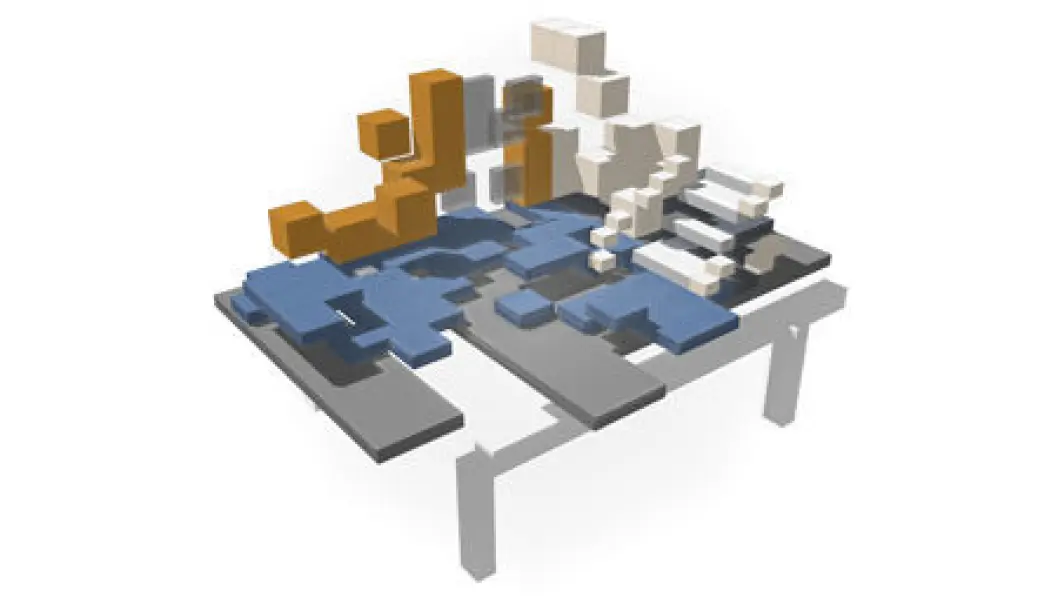 Lack of efficient computer programs to facilitate architects
A generative design system can assist architects in the early stages of the design process by quickly generating and evaluating building models.
The Oslo School of Architecture and Design
The Oslo School of Architecture and Design (AHO) offers education in the areas of architecture, industrial design, landscape architecture and urbanism. The school currently has about 600 students and about 100 employees.
"In spite of many approaches for creating a generative design system, it seems that its implementation to common architectural practice failed – there is a lack of a digital creative design assistance", says Tomasz Estkowski at The Oslo School of Architecture and Design in Norway.
Estkowski has written a doctoral thesis where he has developed guidelines for creating a generative design system.
This is a computer program that can facilitate architectural design by providing proposals in form of digital building models.
Combines multiple aspects
The early phases of architectural design involve a careful examination of different solutions in order to explore which are feasible in a given building site. For example, for a block of one hundred flats there are numerous aspects to consider: that the shape of the building fits nicely with the surroundings, efficient layout of rooms in each flat, requirements of universal design, energy efficiency and so on.
The architect's task is to integrate all aspect in one, logical, functional and elegant form that fits with the client's intentions.
"Design becomes an extremely complex geometric task. It often involves examination of a large number of different building variants," says Estkowski.
"Architects, relying on their intuition and experience, consider only the most promising alternatives of building models. If a generative system was fully developed, it could generate a large number of different building models very quickly, evaluate them and provide a few that 'best' fit with the design objectives. It can be used as a 'design assistant' during the early, conceptual stages of a design process", he says.
The design objectives can be inputted into the system as a set of properties of the intended building, such as building size, number of floors, energy consumptions or daylight illumination. Considering the generated models and examining them carefully, architects can be better informed about what is possible at a given design situation.
Everyone can benefit from the system
Estkowski explains that nature, clients and architects can all benefit from the generative design system.
"The system mainly aims at supporting architects, allowing for a much more informed design practice, so they would benefit the most. However, it is also beneficial for the client, because the intensive exploration of a design situation that the system offers could reveal unanticipated development options."
"Also, the selection of building characteristics that the system includes is based on the framework of sustainable architecture. Therefore, the system suggests generation of models that include the parameters that make the models environmentally and economically sustainable".

The generative design systems Estkowski has described are today only a domain of research. But he believes they will come in the near future.
He adds that the generative design system could not, and is not, supposed to replace the architect.
"All tools have their advantages and disadvantages and this system is not sufficient. No algorithm can match a human's ability to assess aesthetics of a building, or identification of symbolic meaning of architectural objects. Only architects can fully comprehend a design situation in its socio-cultural context".
External links
Related content