An article from
Norwegian SciTech News at SINTEF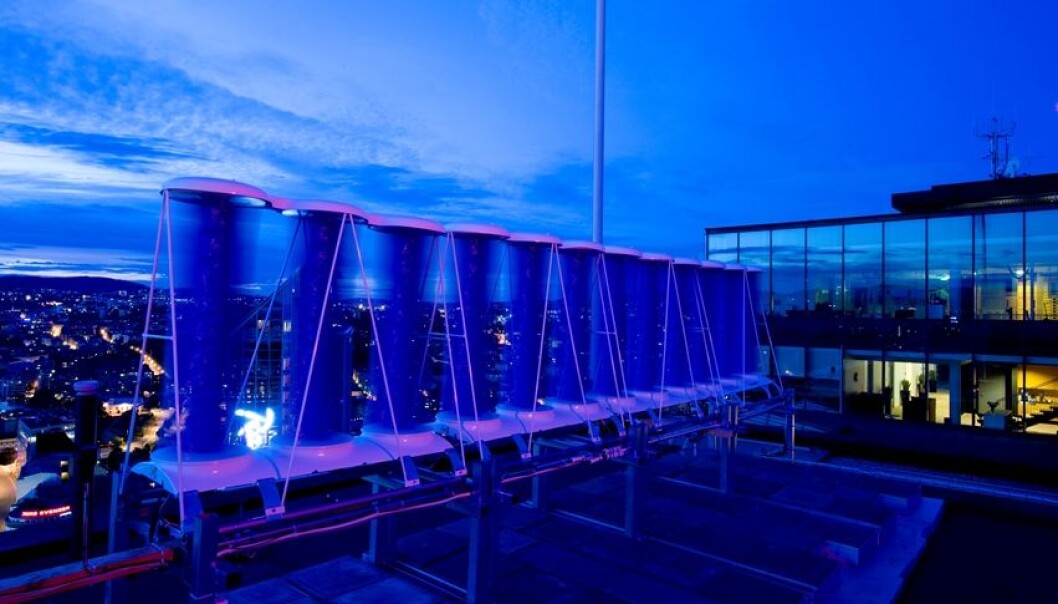 Turbines on the roof?
Researchers are checking out the profitability of installing wind turbines on Norwegian roofs.
Gemini, SINTEF
SINTEF is a broadly based, multidisciplinary research concern with international expertise in technology, medicine and the social sciences.
It's an appealing thought that it might be possible for householders to take care of their own renewable electricity needs.
It's easy to close your eyes and imagine a cityscape of roofs covered by a forest of small, humming wind turbines. But is this a feasible concept? And would such a system be efficient enough?
This got the property company Entra Eiendom wondering. Since there are several small wind turbine models on the market, Entra purchased some units from a company in the USA, and commissioned SINTEF to look into wind strengths, energy efficiency and noise at two test sites in Norway – the Posthuset building in Oslo and at Brattørkaia in Trondheim.
Unstable wind conditions
Last summer, measurement equipment and turbines were installed on the roof of the 23rd floor of the Posthuset building, and wind speed, wind direction and electricity production were recorded at five minute intervals.
"But the turbines showed themselves to be sensitive to gusting, and after a short time had to be turned off so that a braking system could be installed", says Matthias Haase at SINTEF Building and Infrastructure.
This has resulted in delays to the tests and the researchers now know that wind in built-up areas is a problem.
"If there is a lot of wind in a given area, turbines can provide a good solution, but in towns we see that wind strengths are weaker, and that it is more gusty", he explains.
Haase says that maps showing average wind strengths are currently being prepared covering all of Norway, but not for the town centres because built-up areas make it difficult to calculate wind speeds.
An integral part of the construction
Entra Eiendom is interested in finding out about the potential of incorporating turbines as an integral part of a building's construction – and also the possibilities for installing turbines after construction is completed.
Matthias Haase teaches "Sustainable architecture" at NTNU, with an emphasis on Integrated Energy Design. He says that it is important to design a building that enables installed turbines to capture as much stable wind as possible.
"Office blocks and high rises have a major potential for both the active and passive exploitation of renewable wind energy", says Haase. "
If you place a turbine in just the right place, the building and its design can be exploited actively to optimise the benefits of wind energy. In passive mode, it is possible to control air intake through the building's façade. By doing this we minimise the energy used to run mechanical ventilation systems", he says.
Low noise
Noise tests for Entra Eiendom were completed in October. Following measurements taken over 14 days, with up to 9 m/s of wind, noise researchers were able to confirm that the turbines were very quiet.
"We recorded around 5 m/s winds while we stood next to the turbines, but we hardly heard them at all", says Tron Vedul Tronstad.
SINTEF now plans to get the wind tests re-started as soon as possible. Regardless of what you think about integrating turbines into buildings or installing them after construction, it is vital to find out more about wind speeds in our towns and cities.
Matthias Haase tells us what the measurements will achieve.
"We will measure wind speed and energy production independently of wind strength and its direction", he says.
"We will compare the measurements with local meteorological station records in order to identify deviations, and then compare these with historical data from same stations. We can then say something about overall conditions over time".