This article was produced and financed by
Oslo Metropolitan University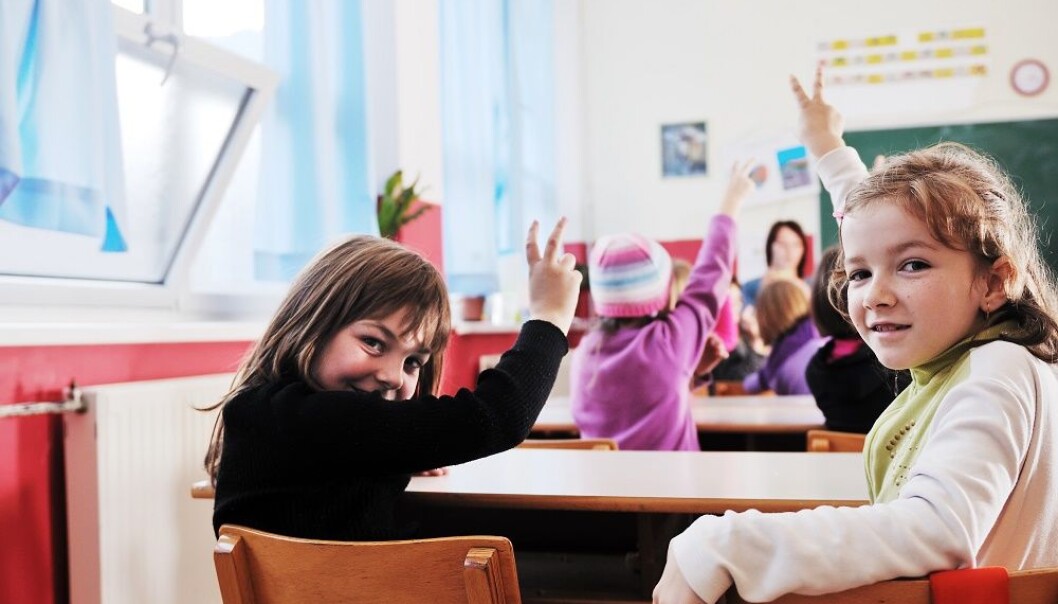 Norwegian eight-year-olds 'dig' their teacher
Norwegian children are more satisfied with their teacher than their peers in other countries are.
Oslo Metropolitan University
Oslo Metropolitan University is a state university in Oslo and Akershus in Norway.
This according to a survey where 17,000 eight-year-olds from a total of 16 countries have been asked questions about their lives.
The survey is part of a bigger study of nearly 50,000 children between the ages of eight and twelve.
Now, the second report from the Children's Worlds study has been published. The survey contributes valuable knowledge about children's everyday lives around the world, among other things how satisfied they are with their teachers.
A report on the views of 10 and 12-year-olds has been published previously.
About the study
The questionnaire survey was conducted in 2013–2015 and included children aged 8, 10 and 12 from the following countries: Algeria, Columbia, England, Estonia, Ethiopia, Germany, Israel, Nepal, Poland, Romania, South Africa, South Korea, Spain, Turkey, Malta and Norway.
The next round of the study starts in September 2017, at which time several new countries will be included: Indonesia, Finland and Italy. The first results of that round will be published in early 2019.
The survey is funded by the Swiss Jacob's Foundation.
The main report is available at: isciweb.org
(Children's Worlds 2013–2015, Jacobs Foundation)
"The top ranking should perhaps be taken with a pinch of salt, but the fact that so many eight-year-olds give such good feedback on their teachers and fellow pupils is something to take with us from this survey," explains researcher Elisabeth Backe-Hansen of the research institute NOVA at Oslo and Akershus University College of Applied Sciences, who has been responsible for the Norwegian part of the study.
Praise their teacher
Norwegian teachers listen to their pupils and take what they say into account – and they are perceived as fair, according to the Norwegian eight-year-olds in the study.
In addition, the children say that they like being with the other pupils in their class, and that they feel safe at school.
However, the researcher adds that, if you compare the responses from the eight-year-olds with the Norwegian 10 and 12-year-olds, there is a tendency for the older children to be less satisfied with their teacher.
According to Backe-Hansen, this may be related to the fact that the youngest children only deal with one teacher, their contact teacher.
Older children deal with several teachers, and their answers may therefore vary more.
A unique study
It is not often that the views of young children are the subject of research.
The Children's World study is doing something about that.
In this part of the study, eight-year-olds have answered questions about important areas of their lives, including their home and family, friendships, money and possessions, life at school, where they live, how they spend their time, their personal well-being, views on children's rights, and how satisfied they are with their lives in general.
Most are satisfied
In general, the study shows that the children are satisfied and happy with their lives. However, about 6% responded that they were not very happy.
This proportion varied between less than 3% in Colombia and Romania and more than 9% in Ethiopia, South Korea and England.
Most eight-year-olds in Norway are very happy. 'I think this is because we have a well-functioning welfare state. A solid majority responded that they were very satisfied and happy regardless of the questions, and girls even more so than boys,' according to Backe-Hansen.
Relatively speaking, the Norwegian children were most satisfied with their neighbourhood, family and teacher.
"The fact that so many eight-year-olds give such good feedback on their teachers and fellow pupils is something to take with us from this study," says Backe-Hansen.
Major differences
The children's responses to the questions uncovered some wide differences between the countries.
While more than 70% of the Norwegian children completely agreed with the statement 'In our area there are enough places to play and to have a good time', only 40% and 38% of the children from South Korea and Nepal, respectively, agreed with this.
More than 70% of the Norwegian children said that they felt safe in their neighbourhood, in sharp contrast to the children from South Korea, where only 23% said the same.
A total of 80% of the Norwegian respondens completely agreed with the statement 'We have a good time together in my family'. The proportion from Ethiopia and Nepal who said the same amounted to 41% and 39% percent, respectively.
In the Norwegian study, children born in other countries than Norway more often expressed that they had too few friends, and they were far less satisfied with the area they lived in.
"We have a job to do here," Backe-Hansen underlines.
Country of birth makes a difference
About 14% of the children in the Norwegian study came from immigrant backgrounds. This is almost the same as the national average at the time the study was conducted. Of these, half were born in Norway, while the other half were born in another country.
One of the main findings was that the children who were born in Norway gave very similar responses to Norwegian-born children with Norwegian parents.
Immigrant children born abroad to non-Norwegian parents generally responded slightly less positively to the questions. They had fewer possessions, fewer good friends and were slightly less happy in school.
According to Backe-Hansen, a lot of this has to do with how long the children have lived in the country.
She adds that these may be transitional phenomena, but that it is important to focus on ensuring that these families have employment, a better place to live and a more stable income.
Ranking not important
"The most important contribution from this study is not the ranking between the participating countries, but the opportunity that lies in comparing findings from groups of countries with certain common characteristics," the researcher says.
"For example, what stands out as particular challenges for the Northern European countries? It is here that the potential for political action lies," says Backe-Hansen.