An article from
University of Oslo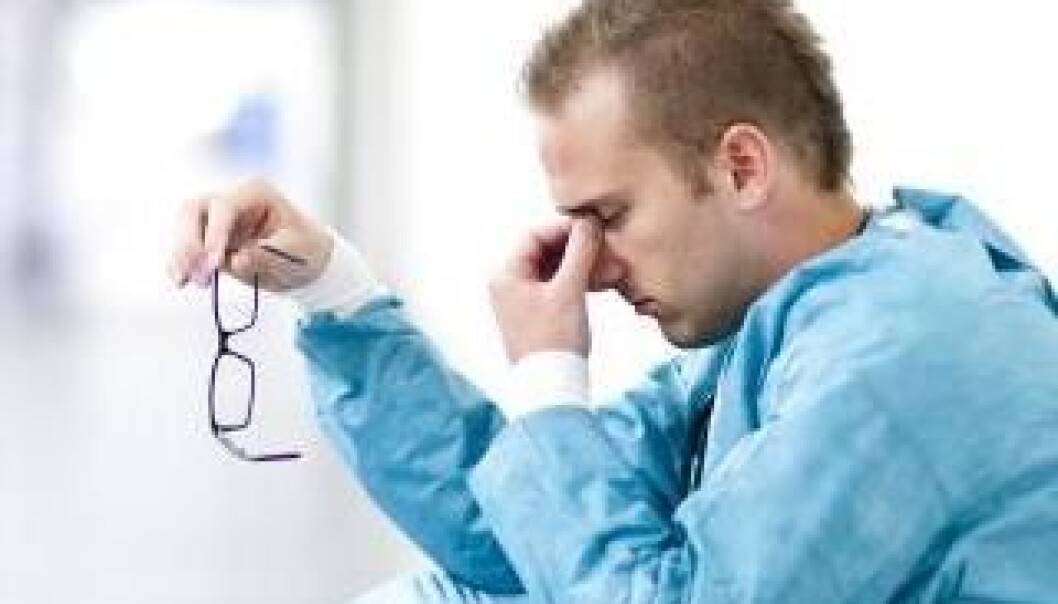 Younger doctors are more depressed.
The younger the medical student, the greater their risk of developing symptoms of depression.
University of Oslo
The University of Oslo is Norway's leading institution of research and higher education.
In the last 15 years 600 doctors have repeatedly answered questions on their drinking habits and their moods.
The huge data material has been analyzed by psychologist Kjersti Støen Grotmol, who studies hazardous alcohol consumption and symptoms of depression among Norwegian doctors.
All medical students who graduated in Norway in 1993 and 1994 are included in the study, and their alcohol consumption and symptoms have been measured at different intervals.
"Fortunately, our numbers are not alarmingly high", notes Grotmol.
But the study identifies some issues that increase the risk of alcohol consumption and depression.
The young student is more depressed
One finding was that the younger medical student has a higher risk of depression.
Grotmol found that the risk of experiencing symptoms of depression later in life increases according to the age at which medical students enter medical school. The risk increases by ten percent for every year by which the medical student's age is lower at the start of their programme.
The average age of medical students at the start of their studies has fallen significantly since the programme started. This should therefore be followed up in new studies.
Stable alchohol consume, less depression
The study shows that alcohol patterns are stable for 15 years after graduation from medical school, while the prevalence of symptoms of depression falls.
"We found a decreasing prevalence of depression for each year, though the decrease was primarily found in the first year after medical school. The decrease then stabilised", says the PhD-student at University of Oslo.
She looked at factors that affect the risk of depression, such as personal characteristics, the age when they start of medical school, ties to parents, and the confidence in their own medical skills.
A neurotic personality with low self-confidence and high self-criticism triples the risk of developing symptoms of depression.
The importance of expectations
The expectations that someone has regarding how alcohol works and what it does to body and mind has long-term effects on their drinking patterns.
"A general expectation that alcohol reduces anxiety increases the risk of hasardous drinking six years into the future", says Grotmol.
She believes it is important to pay attention to these expectations when trying to reduce alcohol consumption. Other studies have shown attention to expectations reduces drinking.
"We must put this on the agenda. It is always important to work on attitudes. As the levels of depressive symptoms are high early on in medical school and in the career, it is important to intervene quickly and to start prevention early in order to prevent an undesirable development", Grotmol concludes.
----------------------------
Read the Norwegian version of this article at forskning.no
Scientific links
External links
Related content