An article from
Norwegian University of Life Sciences (NMBU)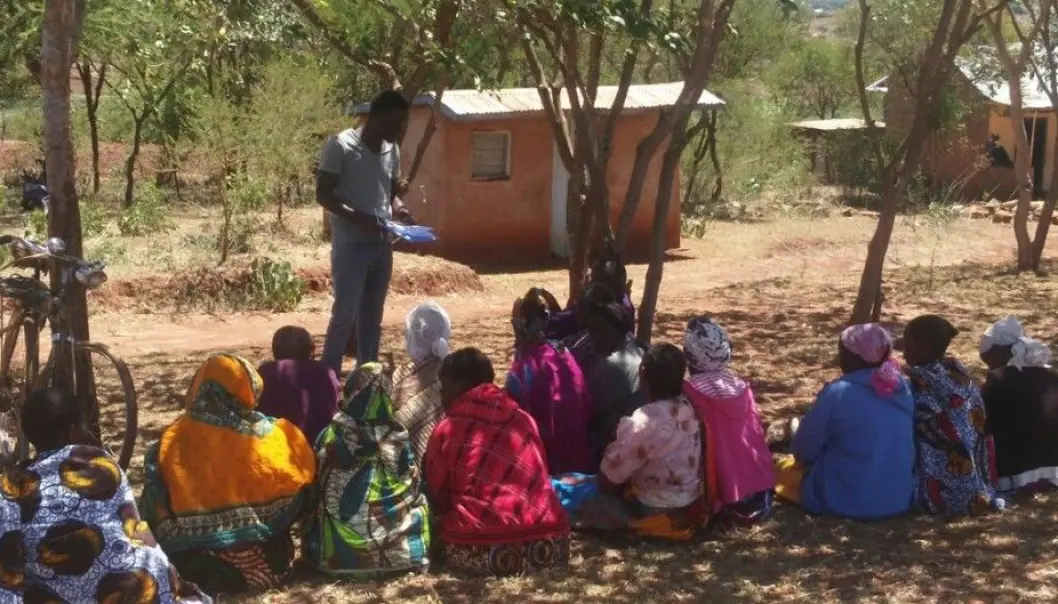 East African farmers are positive to GMOs
Imagine the despair you would feel if your crops were destroyed. Perhaps due to drought, an aggressive plant disease or pests, or nutrient deficient soil? And back at home you have many hungry mouths to feed.
Norwegian University of Life Sciences (NMBU)
NMBU's research is enabling people all over the world to tackle the big, global challenges regarding the environment, sustainable development, how to improve human and animal health, renewable energy sources, food production, and land- and resource management.
But then you hear about new types of genetically modified seeds that enable better cultivation and crops that are resistant to ravaging drought and disease, and do not need to be sprayed so often with expensive pesticides.
It is said that the seeds can also provide subsistence crops with a higher content of essential minerals and vitamins. This would naturally be appealing.
Norwegians farmers also face challenges such as storms, changes in climate and aggressive diseases. Surveys have suggested that Norwegians are becoming more positive towards genetically modified food. A relaxing of the Norwegian Gene Technology Act is now being considered. But there are also surveys that indicate the opposite. A survey recently conducted by OsloMet in 2017 indicated that 50% of respondents were negative towards genetically modified organisms (GMOs), while only 15% view them positively.
But how do farmers in African countries feel, where climate change and hunger affect populations to a much greater extent?
Went to Kenya to find out
In the shade of a tree in a small rural village a few hours' drive from Nairobi, Ida Tarjem met with a group of farmers. Over a cup of tea, she spoke to the women and men about their experiences and views.
She did so as part of her master's thesis at NMBU and the International Institute of Tropical Agriculture (IITA) in Nairobi, Kenya. In her project, she conducted numerous opinion surveys among farmers in Kenya, Uganda and Tanzania. She also spoke with researchers, organisations and decision-makers in all three countries. The goal was to determine how familiar they were with GMOs and to gather their opinions on the technology.
"The majority of farmers from these countries believed that GMOs could help increase the quality of life for farmers. They responded that they would cultivate such crops if they were available, and supported the commercialisation of the technology," explains Tarjem.
There was, however, only scant awareness and knowledge of GMOs among the farmers in Uganda and Tanzania, whereas most Kenyans were familiar with the concept. One of the reasons for this may be that, for a long time, there has been exhaustive debate on GMOs in Kenya.
Concerns
Their interest in genetically modified crops notwithstanding, farmers in the three African countries also harbour a degree of scepticism.
"They were concerned that GMO material could be detrimental to human health and the environment. Some had heard through the media, from politicians and various organisations that GMOs could lead to infertility, cancer, ageing, and yes, even death. Others were concerned that GMO products would not be accessible in markets, both locally and internationally, where consumers are willing to pay the same price for conventional products. It is important to take these viewpoints and concerns seriously," says Tarjem.
Increased political will, awareness and competence
In rural areas of East Africa, Tarjem witnessed how easily crops can be lost to drought and pests. She believes that access to genetically modified materials has the potential to combat hunger and poverty in Africa. However, for this to have any real impact, it must constitute just one of several measures and it needs to be supported.
Ida Tarjem points out that GMOs alone cannot solve the problems faced by many African nations. A lot of different things to be in place as a prerequisite to fruitful production: infrastructure, such as decent roads on which to transport goods, storage conditions that prevent products from rotting, and access to water and fertiliser, being a few examples.
"It necessitates increased political will, awareness among farmers and consumers, and research expertise. In a survey among researchers, organisations and government representatives, a great many respondents asserted that the international community must assist in the formulation of awareness campaigns, research programmes and legislation, and must initiate partnerships between the public sector and private biotech companies," says Tarjem.
Business focus
The price and supply of the seeds will also be crucial to whether GMO materials are used. When asked, farmers expressed that they were worried about having to buy new, good quality seeds from seed companies each season. It may preclude them from nurturing and using the seed products for the following year's crop, which they are accustomed to doing, but which is not permitted with patented seed products.
"Many people have an overly romantic view of the African farmer – that he or she is happy with small-scale, hand-to-mouth cultivation, and using the antiquated methods of their ancestors. In stark contrast, however, the farmers I encountered on my trip were tremendously business savvy. They are eager to learn and adopt new technologies in the hope that this can get them out of poverty, contribute to better health, and afford them opportunities to send their children to school," says Tarjem.
Scientific links
Related content