THIS ARTICLE/PRESS RELEASE IS PAID FOR AND PRESENTED BY
The Norwegian School of Sport Sciences
- read more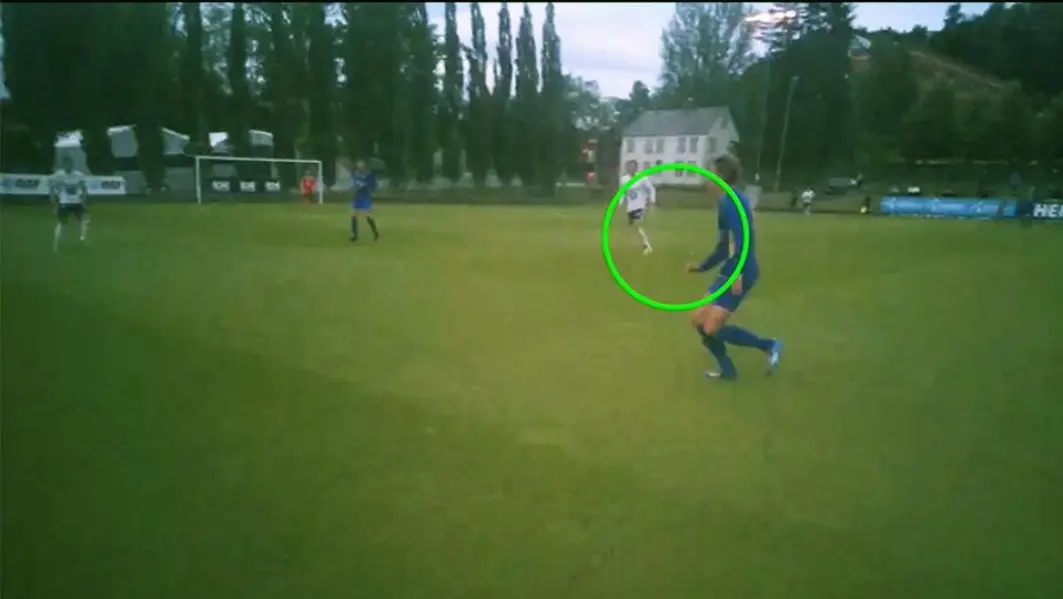 How top football players use their gaze – and how it contributes to make them the best
Having an effective gaze can make elite players even better. Even young players can become much better by learning how the best players in the world use their eyes. Overview is the key word here, i.e. effectively gathering information about the situation around one.
We've read about it before, i.e. elite players see what is going to happen almost before it actually happens. Both Erling Braut Haaland and Martin Ødegaard have displayed such abilities on the football pitch. For them and other elite players, it's all about the ability to use their gaze effectively, even more so than other players.
Karl Marius Aksum has spent more time than anyone else on studying how elite footballers of different ages use their vision. By using special glasses and countless video footage, he has captured and been able to study eye and head movements during active play, he has investigated how players search for opportunities on the pitch – and what this means just as they are about to shoot or hopefully execute a brilliant pass.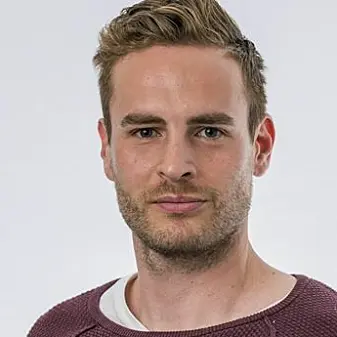 Searching provides an overview
"By using these special glasses – so-called 'eye-tracking' – we can see exactly what players see. The glasses accurately track their eye movements, both where and on what they focus their gaze. They also track anything that they might manage to pick up from what is happening around them by rapidly shifting their gaze. It all happens very fast," says Mr. Askum.
Individual players from Stabæk and Rosenborg were equipped with such glasses during matches. Since the glasses were very expensive and he only had a few sets, the players were politely asked to play normally, but to preferably avoid nodding.
In addition, he has investigated how players gain an overview by identifying the head movements of players – how they 'search.'
"I've studied countless videos in order to identify players' 'searches' - specifically through their head movements during the last 10 seconds before they receive the ball," he says. And his findings are quite clear:
"The frequency and timing of such searches is crucial for the quality of the next pass. The more searches made, the better the overview and the more likely it is that the next pass will be successful."
He videoed matches played by an English Premier League club and also the under-17 and under-19 teams that reached the finals of the European Championships in England and Finland in 2018.
From lab to reality
This is the first time anyone has conducted such studies of eye movements in real surroundings outside the lab. Previous studies were conducted inside, or in some cases, with smaller groups (typically 3-on-3 games) on the pitch. Mr. Aksum studied real matches involving full teams with 11 players on each side. This makes the study much more realistic.
And Mr. Aksum's results partly complement and partly contradict the lab findings.
"The gaze studies show that in reality, players only focus quickly on their teammates, their opponents, the goal or the goalkeeper. They focus even more on the ball, whoever is in possession of the ball or actually on the ball, their teammates and their opponents at the same time," says Karl Marius Aksum. "It's about obtaining an overview."
According to Mr. Aksum, it also turns out that players in real matches scan the area around them much faster and also attach their gaze for much shorter periods of time there than in the lab tests. In the lab – e.g. in the psychology lab at the NIH – players typically stand in a calm, controlled situation in front of a flat screen and the dynamics are quite different. For example, gaze fixation works differently in the lab when compared to outside.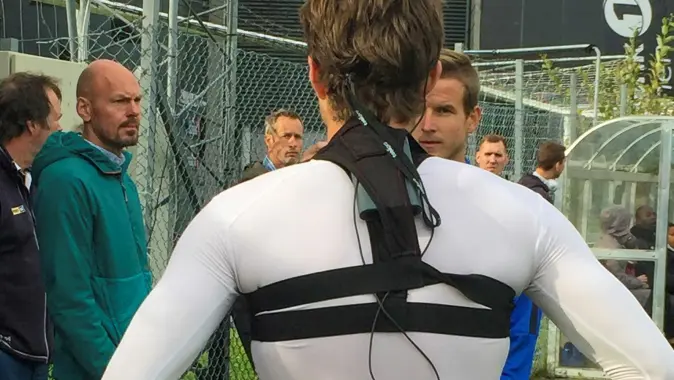 Preparatory work with the gaze
As is the case in gaze studies, analysis of these searches, i.e. the head movements, provide information about how important they are for having an overview as well. Those players who search most diligently are best able to take advantage of any opportunities, they are most forward-oriented both in respect of their body position and when passing and they deliver the most precise passes.
"Searches like this are all about frequency and timing," says Mr. Askum. "And about perception, i.e. the ability to absorb sensory impressions and interpret them effectively."
However, the analyses show major differences in how diligently both individual players and players in different positions on the pitch search. For example, strikers generally search for information away from the ball on an average of 'just' 0.3 times per second. Erling Braut Haaland, who, it should be noted, is not involved in Mr. Aksum's study, stands out here, with 0.5 times per second – i.e. at least one new search away from the ball at least every two seconds.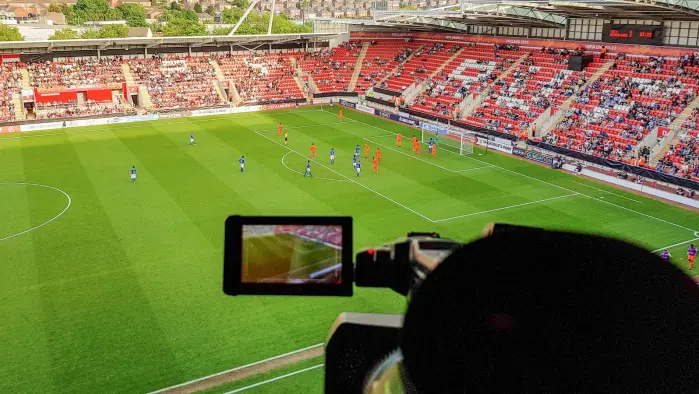 Surprisingly diligent in the midfield
"The fact that search frequency so clearly follows a player's position on the pitch was one of the most surprising things that we found," says Mr. Aksum. "On the football field, midfielders are the most diligent – they MUST have this ability – while wingers have less information around them to deal with."
"Strikers, like Haaland, need to search a lot, but they are often being very closely marked by their opponents, making it 'dangerous' for them to take their eye off the ball; that would give defenders the opportunity to win the ball from them."
Follow the ball too much
"The analyses also show that players, on average, devote far too much of their attention to just the ball, as much as 70 per cent of the time. This is where a lot of players could make big gains," says Mr. Askum.
"70 per cent is much more than necessary, the players would obtain a much better overview and make much better choices if they just kept an eye on the ball when something new was actually happening to or around it. Like passing, receiving, guiding, dribbling the ball or shooting," he says, adding:
"This is something that players of all ages can benefit greatly from. You have to devote more of your attention to what's going on around you."
Match training
"One important lesson from this, that coaches at all levels should learn, is: train more in real matches!
Karl Marius Aksum thinks that this should be obvious when you know what he has now found out.
"They should train in match-like situations, with opponents, teammates, direction and goals. They should not train in isolation in situations where you do not need to gather information from your surroundings in order to solve tasks. It is only in matches that things go fast enough, that you are put under pressure and you HAVE TO find good solutions quickly. You then also have to use your head and eyes effectively and you simply can't do that in artificial situations, whether it's during training or in the lab."
"But doesn't this all require a lot of experience too, so that only the best players – not ordinary child and youth players – actually manage to interpret situations quickly enough to make optimal use of their gaze?"
"No, that's not actually true. Elite players will make the most of it, but even children can learn this technique. And they should do that early on."
Colours, movements, spaces
Mr. Aksum believes that the lessons derived from searching can be transferred way down the line in club football. He has even trained children as young as 8-9 years old and believes that even they can learn it. "However, only after working on this for a while will one be able to make full use of the benefits of searching. It's not enough to turn your head just because your trainer said you should. You actually have to use your head and eyes to search for relevant information in order to perform better."
"The worst example I have seen of this was a national youth team warm-up drill a few years ago. They were doing various frequency exercises without a ball while turning their heads from side to side, completely without any meaningful purpose."
Another exercise has involved asking players to look for details while searching, such as reading a number or noting the number of fingers held up by the trainer.
"My research shows that players don't register any details while searching, so that is a waste of time. It's enough to see colours, movements and spaces – in order to obtain an overview."
Aksum's two measurement methods
Eye-tracking: The players were equipped with special glasses that track exactly how they move their eyes and juxtapose that with what they're looking at. This provides an accurate picture of what the players are fixing their eyes on, and for how long.

Searches: Analysis of match videos designed to identify how diligently players turn their heads in order to identify what is happening around them during the last 10 seconds before they receive the ball. The best players capture around 0.5 new situations every second.
References:
Karl Marius Aksum et.al.: Scanning activity of elite football players in 11 vs. 11 match play: An eye-tracking analysis on the duration and visual information of scanning. Plos One, 2021.
Karl Marius Aksum et.al.: Scanning activity in elite youth football players. Journal of Sports Science, 2021. Summary.
Karl Marius Aksum: Visual Perception in elite football. Doctoral dissertation at the the Norwegian School of Sport Sciences, 2021.
About the project
The project was done in England, Finland and Norway since 2018 and Karl Marius Aksum has been responsible for collecting most of the data concerned. His research is based on previous projects carried out by NIH Professor Geir Jordet.
———