This article was produced and financed by
Norwegian Institute for Agricultural and Environmental Research
Linking science and policy to adapt to climate change
Climate change will have an impact on the agriculture and water sectors and affect rice and other crop production in Andhra Pradesh and Tamil Nadu in India. A new research program aims to help.
Norwegian Institute for Agricultural and Environmental Research
Bioforsk conducts applied and specifically targeted research linked to multifunctional agriculture and rural development, plant sciences, environmental protection and natural resource management. International collaboration is given high priority.
Evidence shows that these regions will be adversely affected by climate change in the future.
Such effects could potentially include water availability – both with regards to the quality and the quantity of the water, and eventually the way farmers in the region respond to managing their land and water resources.
ClimaAdapt, a four year project supported by the Norwegian government, aims to develop adaption and mitigation strategies and capacity building of local stakeholders and agencies involved in climate change adaption in these regions. The goal is that the strategies developed in the project will eventually provide input to the state climate change adaption frameworks.
The programme is led by Bioforsk, in partnership with international, state and local research and training institutions from the two regions. With an emphasis on taking an integrated approach, it involves different sectors and brings together stakeholders from all levels, from policy makers and scientists, to managers and farmers.
Linking science and policy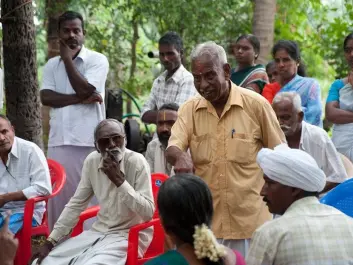 Nagothu Udaya Sekhar, Programme Coordinator and Senior Researcher at Bioforsk - the Norwegian Institute for Agricultural and Environmental Research, says that to improve the resilience to climate change, it is crucial to strengthen the link between policy making and science:
"As it stands now in countries such as India and Bangladesh among others, policies are not well grounded in science and local needs. They are influenced by politicians and bureaucrats, and often driven by political interests. The policy guidelines and recommendations should be science based. We are trying to reduce that gap," he says.
"Our goal at the end of the project is to come up with policy and technical guidelines based on good science."
To achieve this, Sekhar points out that it is crucial to have stakeholders from all levels on board.
"It is important to involve stakeholders right from the start. We want to know what they think and what they believe would be relevant for the farmers, and we get feedback and reviews. This also helps to ensure that the stakeholders acknowledge the project results."
"We are attempting to develop innovative interactive platforms for stakeholder involvement," he adds.
Looking at the current gaps
A situation analysis was carried out during the first year in order to understand the current situation and gaps, such as the capacity of the farmers and the variants for adaptation.
"Based on this situation analysis, which is the main work we did in the first year of the project, we have now found base line indicators that showcase different current situations when it comes to adaption," explains Sekhar.
He says they have also tried to summarise the climate and hydrology scenarios in the regions based on results from previous projects, besides looking at on-going public private partnerships, and the possibilities they hold.
"From all of this, we have now decided how we should approach the program the next few years," he says.
Capacity building is crucial
According to Sekhar, one of the most significant areas of the project is capacity building of stakeholders including women and farmers:
"We have well planned capacity building activities for different categories of stakeholders. We want to build core capacity within the stakeholder groups, and have tried to identify what the capacity building requirements are on different levels. Based on this, we have prepared a strategy for capacity building. Training is an important component and we put a lot of emphasis on different aspects of training," he explains.
Currently, he says they are in the face of developing the different training modules.
"In our consortium, there are specialised training institutes from the two different provinces, and they are responsible for the training. We have already started some training of managers and farmers in the second year.
"Farmers in these regions have access to some types of interventions. We try to conduct field training courses for the farmers where they can see certain measures demonstrated on the fields, for example Direct Sowing of Rice and System of Rice Intensification . We use model farmers to train other farmers, as we find it more effective in disseminating. We are also looking at ways of bringing on-board women and mainstreaming gender in adaptation," Sekhar says.
Aim to scale-up
The plan is that the adaption measures selected through field demonstration will be integrated into state climate and sector frameworks.
"There are some parallel government programmes currently running. We need to look at how we can tie up with these, especially when you are talking about up-scaling. We are project based and have limited resources and limited time. We can come up with the guidelines and strategy for up-scaling, but the government and the farming communities need to take them forward," Sekhar emphasises.
"We will also attempt to ensure sustainability of project results through training, capacity building and linking with on-going state government initiatives."
External links
Related content