This article was produced and financed by
BI Norwegian Business School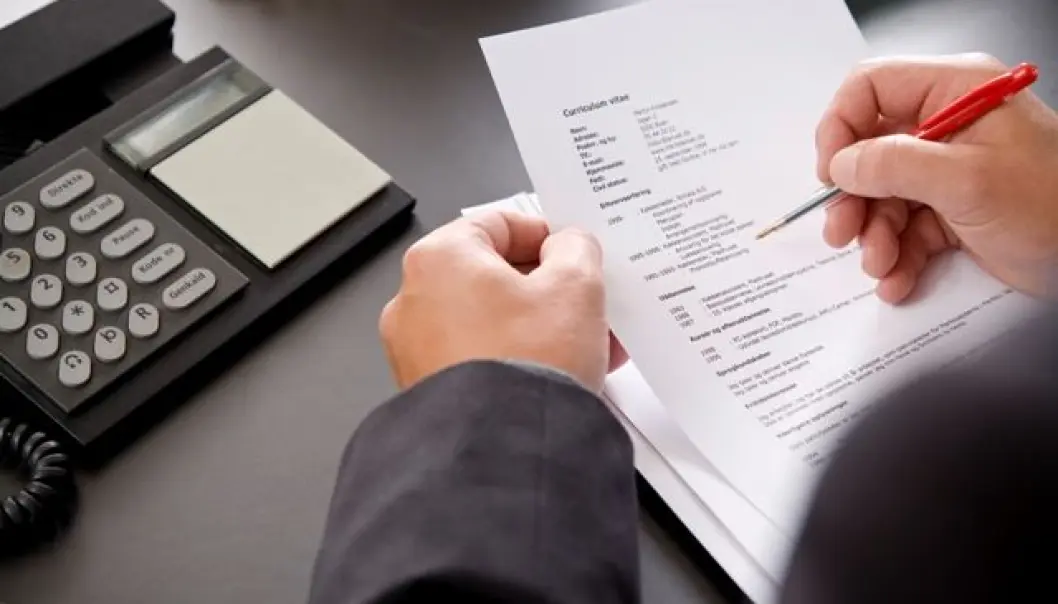 Thumbs down for creative résumés
Applicants want to stand out. Many try taking a fresh approach to their résumé. But stepping outside the box is negative, a Norwegian study shows.
Denne artikkelen er over ti år gammel og kan inneholde utdatert informasjon.
BI Norwegian Business School
BI is a private and independent business school in Norway.
When organisations are hiring, they normally sort candidates into rough groups based on their submitted résumés (a systematic overview of education, higher education and experience).
Because your résumé could open the door to a first interview, it's important that it gives the best possible image of your capabilities related to the job you are applying for.
Employers skim your résumé
Ideally, employers should decide on the most qualified applicant based on a precise job analysis. Résumés make it possible to predict an applicant's performance in a future job, and it is also possible to check the information given.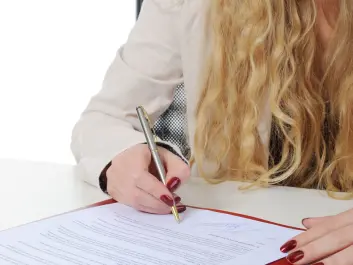 "Unfortunately, the connection between reading résumés and choosing the right candidate is often not that strong. Employers often don't use a clear, systematic method, and may be vague in specifying success criteria for the job", states Assistant Professor Jan Ketil Arnulf at BI Norwegian Business School.
According to Arnulf, some employers may spend as little as 45 seconds skimming a résumé before branding it "not of interest", "maybe" or "of interest". An important first step towards an interview is landing in the pile of candidates "of interest".
Standing out
There's tough competition for the most attractive positions, which results in many applicants adopting non-traditional tactics in order to stand out from the crowd of other applicants. The effects of standing out are uncertain.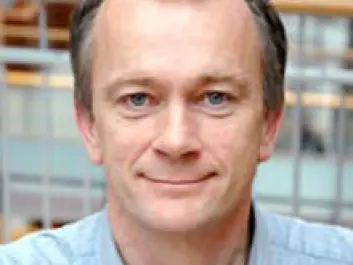 Employers are interested in candidates' personal qualities and will try to surmise these by drawing conclusions about how the résumé has been written.
"When many candidates are competing for a job, an employer will often emphasise negative information – they are worried about being "tricked" by candidates and look for reasons to sift candidates out of the "of interest" pile," the organisation researcher says.
Experimented with résumés
Jan Ketil Arnulf, Lisa Tegner and Øyunn Larssen conducted an experiment involving a real job advertisement and twelve candidates for the position in question.
The candidates had their résumés written in three different versions:
A formal layout on white paper
On pastel-coloured paper
A "creative" version designed to stand out.
The content was the same in all three versions.
The candidates were assessed by two committees; one consisting of 45 people with experience in recruitment from HR departments and recruitment companies, the other made up of 45 people (students) with no professional experience in recruitment.
The results of the study will be presented in the international scientific journal, the European Journal of Work and Organizational Psychology.
Creativity, no thanks
The results were very clear: "All deviations from a formal format reduced the chances of an interview," the BI researcher states.
Coloured paper had a clearly negative effect, while the "creative" format was worst of all.
The same candidate had almost twice the chances of being offered an interview with a formal résumé as with a "creative" one, the study shows.
"The study shows that employers are influenced by completely irrelevant elements of submitted résumés and applications," Arnulf states.
In order to reduce the possibility of this, all candidates should be compared in a neutral, common format (e.g. digitally).
Were recruitment professionals better than amateurs at seeing past different designs and layouts and picking out the most suitable candidates?
"Recruitment professionals are only a bit better at telling good and bad candidates apart than amateurs. This supports the idea that HR personnel need continuing education", Arnulf replies.
Advice to applicants
Applicants should bear in mind that it isn't in their interest to try to attract attention in ways other than through a formal layout. This is even more true in countries where recruitment agencies are even more common than in Norway, e.g. in English speaking countries.
"Candidates with good, relevant qualifications shouldn't ruin their chances with a 'non-traditional' résumé," Jan Ketil Arnulf states.
If you've applied for a job you only have a small chance of getting, you can gamble on emphasising some of your strongest qualities.
"This usually has a negative effect. But how you are assessed by recruitment personnel varies, and even more so where non-traditional résumés are concerned – maybe to your advantage!" he concludes.
------------------------------------------------------
Read the article in Norwegian at forskning.no
Scientific links