An article from
University of Oslo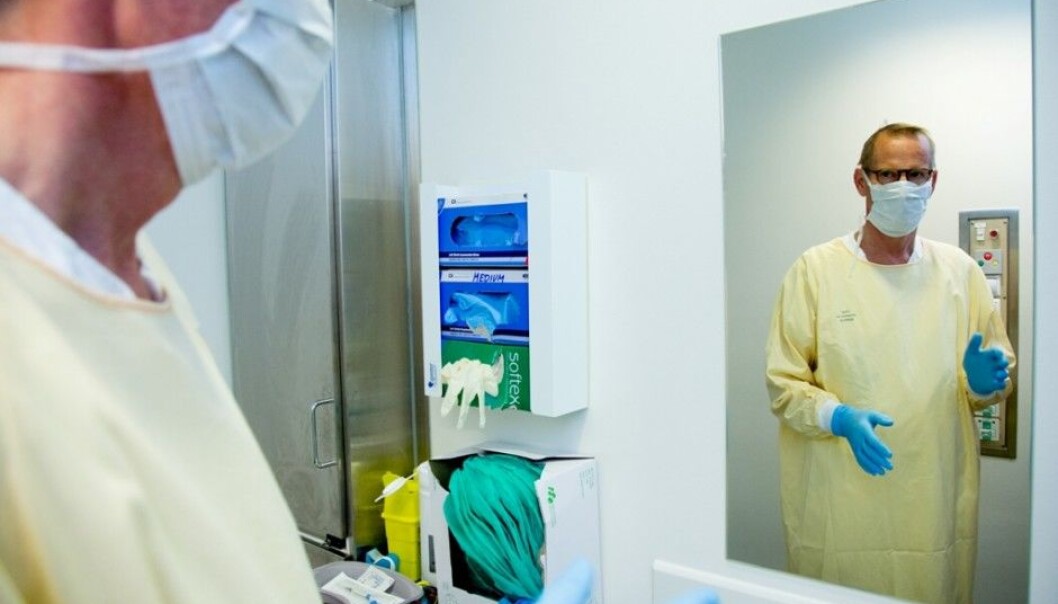 Curbing antibiotic usage requires stronger grip on doctors
Computerised constraints on the writing of prescriptions for antibiotics are needed in hospitals and in general practices, asserts Norwegian chief physician.
University of Oslo
The University of Oslo is Norway's leading institution of research and higher education.
According to the World Health Organization (WHO), antimicrobial resistance is one of the greatest health threats that the world is facing. In November, the WHO will arrange the first World Antibiotic Awareness Week.
"Twenty-five years have passed since a new antibiotic last came on the market, but at the same time, the prevalence of antibiotic-resistant bacteria is increasing. Unless we do something, people will die from common infections because we have no antibiotics that have an effect on bacteria," Dag Berild explains. He is associate professor at the Faculty of Medicine, University of Oslo (UiO), where he heads the research group for rational antibiotic treatment. He is also senior consultant at the Department of Infectious Diseases, Oslo University Hospital.
Berild tells us that a report commissioned by the British government last year shows a scenario in which 10 million people will die from infections in 2050, exceeding the number of deaths from cancer, unless we succeed in handling this problem.
A new Norwegian strategy
This September, the Nordic ministers of health and food safety issued a declaration to fight antibiotic resistance. Before last summer, the Norwegian government presented a new strategy against antibiotic resistance for the period 2015–2020.
What are antibiotics?
Antibiotics are used to cure bacterial infections in animals and people. Antibiotics are agents that kill germs without harming animals or people. Antibiotics have no effect on viruses. Bacteria have various ways to develop resistance to antibiotics.
"One of the goals of the Norwegian strategy is to reduce antibiotic use by 30 per cent over a period of five years when compared to 2012. To reach this goal, digital management of the prescribing of antibiotics by doctors is required", Berild points out.
"Doctors who prescribe antibiotics in hospitals must have an electronic prescribing system that provides them with decision-making support. When they click on the antibiotic penicillin, they will have to select a diagnosis, permitting us to monitor the diagnoses for which the doctors prescribe penicillin. Then, the hospital administration will need to take steps if they discover any discrepancies."
Can cut down on use and maintain treatment quality
Berild says that numerous studies testify to how it is possible to use fewer antibiotics without compromising the quality of treatment.
"For example, we have published a study from a paediatric hospital in Russia, where we have halved the use of antibiotics without any rise in mortality."
Others have shown that it is unnecessary to prolong the use of antibiotics after surgical interventions; using antibiotics during the procedure is sufficient. "The electronic systems permit us to stop the dispensing of antibiotics on the day of the intervention or the next day. Continuing to use antibiotics does not result in fewer surgical infections, but rather in more adverse effects," he emphasizes.
Better measurement methods are needed in the hospitals
In his PhD thesis, Berild and his collaborators developed a simple, so-called point prevalence method to measure antibiotic use. This method is now in use in hospitals across Europe.
"Using this method, we enter the hospitals for four days each year to identify the infections that patients suffer from and the kinds of antibiotics they receive. We need to know the infections that people have when they come in, as well as the ones they contract in the hospital," Berild says.
In recent years, two PhD scholars at UiO have investigated how better to measure the use of antibiotics in children and adults. The methods are still at the research stage, but the goal is to apply them for comparisons of antibiotic use in different hospitals.
"Maintaining an overview of antibiotic use is a management responsibility. Implementation of the national guidelines and monitoring antibiotic use should be entered in the policy documents from the Ministry of Health and Care Services to the hospitals," Berild claims.
"Moreover, the hospitals should be required to monitor their own resistance issues, so that the guidelines can be adapted to any local variations."
Primary doctors also need to be followed up
According to Berild, 85 per cent of all antibiotics are prescribed by general practitioners (GPs).
"Digital monitoring of antibiotic use should also include the primary health services, so that the Prescriptions Registry can reveal those who prescribe senselessly and measures can be taken to improve their prescribing habits if necessary," he says.
This measure is described in the government strategy.
"Many doctors fail to see the seriousness of the situation, and some of them hail from countries where there is another culture for prescribing broad-spectrum antibiotics that kill many types of bacteria," Berild explains.
The national guidelines that the doctors must adhere to are available in a pocket-size summary form. An app that the GPs can use for reference has also been developed.
The consumers also have a responsibility
Berild states that better monitoring of the doctors' prescribing practices must be linked to an awareness on the part of users regarding whether we really need a course of antibiotics or not. Most infections of the respiratory tract will clear up by themselves.
"Antibiotics are what we call a societal drug. Your use of it has an effect on others, because antibiotic resistance spreads," he points out.
Calls for more interdisciplinary collaboration
Berild claims that it is crucial to coordinate those who undertake clinical research to find out how antibiotic use can be reduced, as well as those who engage in basic research on the mechanisms of antibiotic resistance, and those who aim to develop new drugs.
He refers to the University of Copenhagen, which has granted DKK five million over five years for interdisciplinary resistance research in which veterinarians, doctors and pharmacologists collaborate. He would like to see the same in Oslo.
"Three-quarters of all the world's antibiotics are used in agriculture. Bacteria cannot tell animals from humans and spread to people through their food. Sweden, Denmark and Norway have engaged in efforts to reduce this volume. Here in Norway, the Norwegian Veterinary Institute has developed a vaccine that reduces the use of antibiotics in salmon from 48 tonnes per year to near zero. This is a good example of how Norwegian research helps create value for society."
"I am confident that more research on antibiotic resistance will be forthcoming. This is one of the world's greatest public health problems."
-------------------------------------
Read the Norwegian version of this article at forskning.no
Translated by: Akasie
External links
Related content