An article from
UNIS The University Centre in Svalbard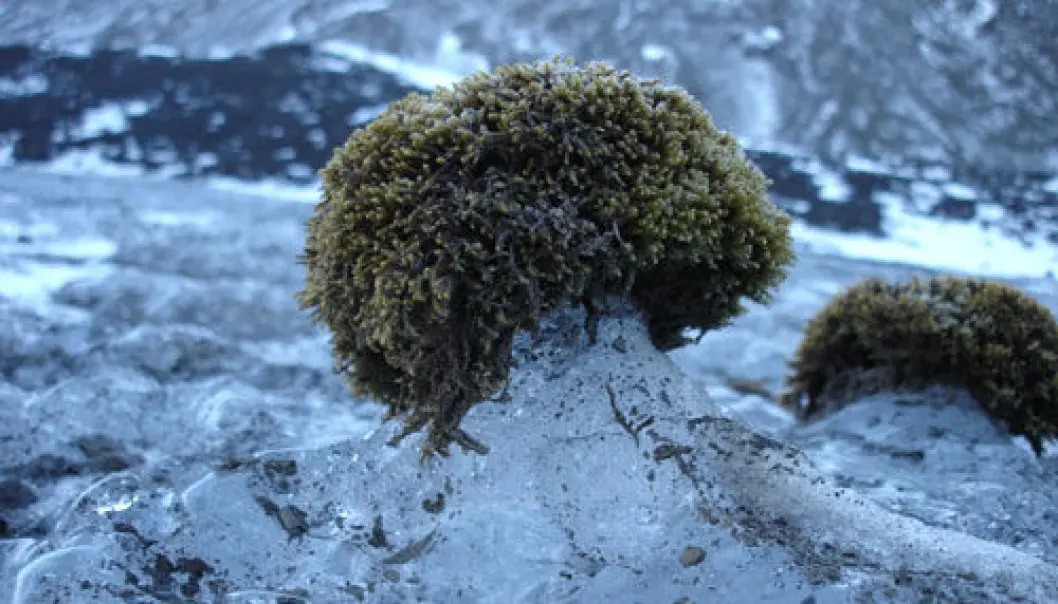 Mice on ice
Never heard of glacier mice? Actually, they are small moss balls forming on glacier surfaces. New research shows that there is lots of life in these fluffy balls.
Denne artikkelen er over ti år gammel og kan inneholde utdatert informasjon.
UNIS The University Centre in Svalbard
The University Centre in Svalbard (UNIS) is the world's northernmost higher education institution, located in Longyear at 78º N. UNIS offers high quality courses at the undergraduate, graduate and postgraduate level in Arctic Biology, Arctic Geology, Arctic Geophysics and Arctic Technology.
So you thought there is no life on glaciers? Well, think again! Turns out there is hopping life– insulated in small moss balls on the surface of the slow-moving ice giants. Invertebrates such as springtails and water bears literally thrive (and survive) in this ice-cold environment.
It seems obvious that glacier surfaces are cold, barren areas where no life might exist. However, this notion is beginning to be challenged. Glacier fleas, ice worms and other species have been observed on glacier surfaces.
On a pedestal
Now also moss balls on the glacier surfaces are found to contain life. Indeed, it seems a whole ecosystem is nesting within the fluffy glacier mice.
Egg-shaped moss balls, formally called glacier mice, occur on some glaciers throughout the world, mostly documented in Iceland, North and South America and the Himalaya.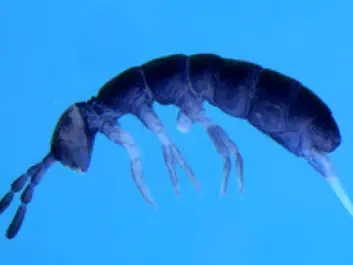 They form when moss begins to establish around a clast (sediments) lying on the glacier surface. The moss continues to grow and insulates the glacier surface, resulting in the moss becoming elevated on a pedestal as the surrounding ice melts. Eventually, the moss falls from this pedestal and may be transported on by wind.
The glacier mice have the capacity of holding water, and thus the moist environment could provide suitable living quarters for many invertebrate species. Also, the glacier mice can be transported along the glacier surface via means of wind, water and glacier movement, thus offering a chance of limited dispersal for the invertebrate.
Whole ecosystems
Most of the research done so far has concentrated on the occurrence of these moss balls, but now scientists from UNIS and Nottingham Trent University in England, have started studying what lives inside these fluffy green balls.
Dr. Nicholas Midgley from Nottingham Trent University went to Iceland and collected 10 glacier mice on the Falljökull glacier. The collected glacier mice were between 8 cm to 10 cm in length.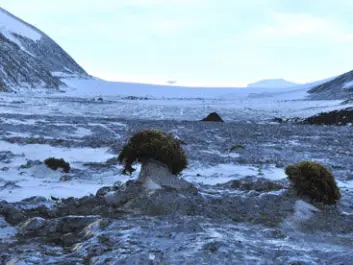 These moss balls were sent to UNIS where Associate professor Steve Coulson dived into them to see what life, if any, were inside these glacier mice. The results have recently been published in the journal Polar Biology.
Coulson found two species of springtails (between 12 and 73 individuals per glacier mouse), 200 tardigrades (water bears) and 1,000 roundworms (nematodes) in the 10 samples.
- Glacier mice seem to enable invertebrate fauna to colonize an otherwise mostly inhospitable location, says Dr. Coulson.
Glaciers as such provide poor habitat conditions for soil invertebrates as they are cold, exposed and offer no food resources. But glacier mice offer a refuge for these species, where the invertebrate might venture out of the mice shelter to feed on the glacier's ice algae and organic debris, and then retreat back into the glacier mice to avoid exposure to the elements.
Coulson was surprised that he found so many animals in the moss balls. More surprising was the fact that the springtails found seemed to range quite a bit in age.
– This indicates that these animals breed inside the glacier mice, Coulson says.
Also in Svalbard?
The glacier mice studied were found in Iceland, but are there such moss balls in Svalbard?
- Yes, so far we have documentation of glacier mice on one glacier called Rieperbreen in Bolterdalen collected by UNIS biology students, says Coulson.
In addition, glaciologist Doug Benn reports he has observed one glacier mouse on Brucebreen above Tempelfjorden.
This opportunistic project has opened some interesting questions, according to Coulson. The next step is to obtain a larger sample to enable the remaining invertebrates to be identified to species. Work in progress also includes identifying the moss to species. Due to the strange growth form of the moss forming the glacier mice it was not possible to conclusively identify which species the moss is. Samples are now being collected to be sequenced to provide a definitive answer.
Long term studies
- We also need to understand the mode of formation better and how the glacier mice are distributed on the glacier surfaces, as well as the detailed role these have in the ecology of the glacier including other microhabitats such as the cryoconite holes (water-filled holes in the surface of a glacier), says Coulson.
- Recently we have been contacted by a group interested in measuring nitrogen fixation in relation to moss species and invertebrate community. With the recent observation of these mice in Svalbard as well as Iceland we can also start comparative studies. Moreover, with the ease of access that working at UNIS provides we can also initiate longer term studies, for example, mode of formation, invertebrate community assembly and potential movement of the glacier mice, he concludes.
Scientific links
External links
Related content