This article was produced and financed by
University of Stavanger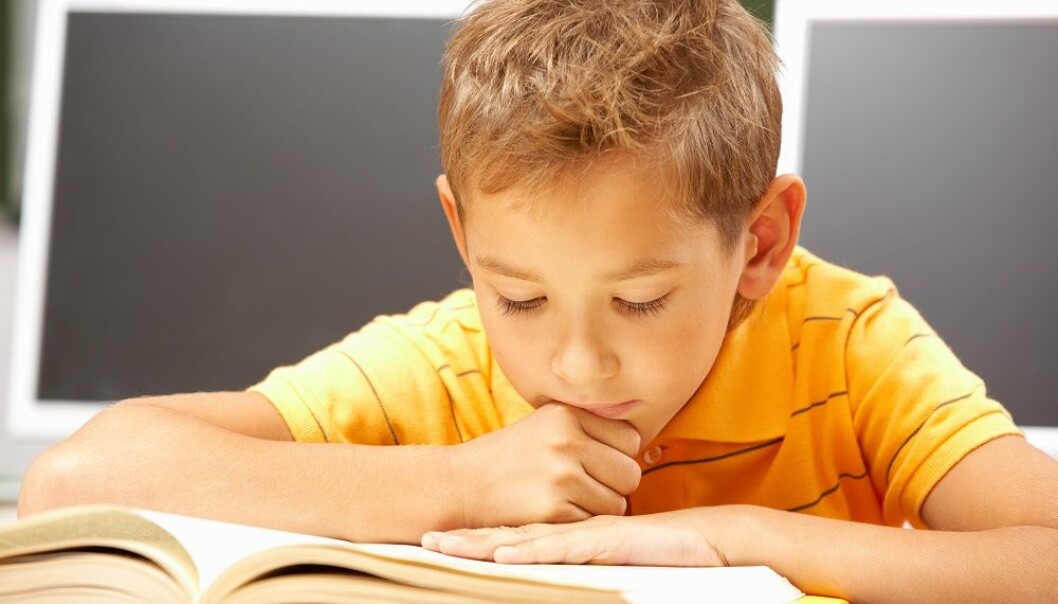 Risk of reading and writing difficulties can be identified early
Teachers can use certain markers to identify Year One pupils who are at risk of developing reading and writing difficulties, as soon as they start school.
University of Stavanger
The University of Stavanger (UiS) is located in Stavanger, Norway and has about 8,500 students and 1200 administration, faculty and service staff.
60,000 Norwegian 6-year olds started Year One this autumn. Most of them know that there is one very important thing that they will learn at school: to read.
Many pupils starting school are already able to read, and the majority will master reading within a year or two. But it is likely that about 15%, or 9,000 six-year-olds who start school this autumn will develop problems with reading and writing.
Researchers, educational authorities and teachers agree that it is important to help struggling pupils as early as possible. Currently, screening tests are carried out during the spring semester of Year One. This is the first formal measurement used to detect pupils with reading and writing difficulties.
However, by recognising certain risk factors, teachers can identify pupils at risk of developing reading and writing difficulties as early as the start of their first school year. This was determined in a study carried out as part of a research project at the Reading Centre.
Five factors
The researchers looked at five factors that are known to be connected with reading and writing skills. Upon starting school, they examined pupils' knowledge of letters, if they could sound out the first sound in a word, if they could bring sounds of short words together, as well as quick naming – i.e., say the name of pictures of known objects in the correct order as quickly as possible. In addition, parents were asked to advise whether anyone within the child's immediate family had experienced difficulties with reading or writing.
A total of 657 Year One pupils took part in the study. The pupils were randomly selected for the On Track project. Those who received what was defined as a low score in three or more of the above-mentioned categories were placed in an "at-risk group". The researchers believed this group would be at risk of developing problems with reading and writing. 122 of the selected pupils ended up in this group.
Found a connection
In spring, all Year One pupils completed the mandatory, formal screening tests in reading and writing. Master's student Linda Rangen Søyland compared the pupils in the initial at-risk group with the pupils who received worryingly low results in the spring screenings.
It turned out that more than half of the children whose screening test results were below a critical level were among the pupils already placed in the researchers' at-risk group.
"As an example, 104 of the 657 pupils received worryingly low results in spelling during the screening tests. Of this number, 60 pupils were already in the at-risk group following the autumn tests. Furthermore, the screening test results for 90 pupils in word reading were worrying. 48 of them had already been identified and were in the at-risk group," says Søyland.
Preliminary findings
However, the researchers had not pre-identified some of the pupils who received low scores in the formal screening tests. Other pupils were in the at-risk group at the start of the school year, but the spring screening tests showed that they were able to achieve the expected results.
"There can be many reasons why more pupils were not picked up. For example, we assumed that all criteria were equally important, which is probably not the case. Other pupils lacked knowledge during the autumn screenings, simply because they had previously learned very little about letters and reading. However, they did fine once they began learning in school," says Kjersti Lundetræ, associate professor at the Reading Centre.
Stay aware
She still advises schools to take the findings seriously.
"This study shows that we need to be aware of the areas we assess to begin with. Knowing the letters, sounding out the first sound in a word and reading and writing difficulties within the family were the most significant factors," says Lundetræ.
"It is not enough just to rely on an assessment carried out at the start of the school year, as there are multiple factors that affect pupils. A previous On Track master's study shows that teachers often put more emphasis on language comprehension, vocabulary and learning problems in general when identifying pupils they believe to be at risk of developing literacy problems".
Researcher says: Teachers, be observant
It is important that teachers focus on getting to know their pupils as soon as possible," says Lundetræ.
"Teachers should find out if the pupils know their letters and if they can already read and write when starting school. Teaching must be adapted so that pupils get to master reading and writing and its inherent challenges, regardless of where they start from. Teachers should also observe their pupils' progress along the way and give timely help to those who are struggling.
Difficulties are hereditary
The school should also ask if there are reading and writing difficulties in pupils' families. It is well known that such difficulties are hereditary – this is also confirmed by the current study.
"Reading and writing difficulties within the family appear to constitute a fairly significant risk for pupils to whom this applies. 35.5% of pupils that have two family members with reading and writing problems received worryingly low scores in their screening tests in reading. For spelling, the number was 52.9%. Other studies show that there is also an increased risk among pupils that have one family member with such difficulties," says Søyland.
Objective: Fewer pupils with difficulties
The objective of the On Track project is to reduce the number of pupils who develop reading and writing difficulties.
Lundetræ and the rest of the research team plan to develop a tool that is even more accurate.
"We will follow the pupils up to Year Five. Then we will know for certain who has developed reading and writing difficulties. Our objective is to use this knowledge to create an assessment tool and motivational teaching plans that can help prevent such difficulties," she says.
Related content