This article was produced and financed by
Norwegian centre for E-health research
- read more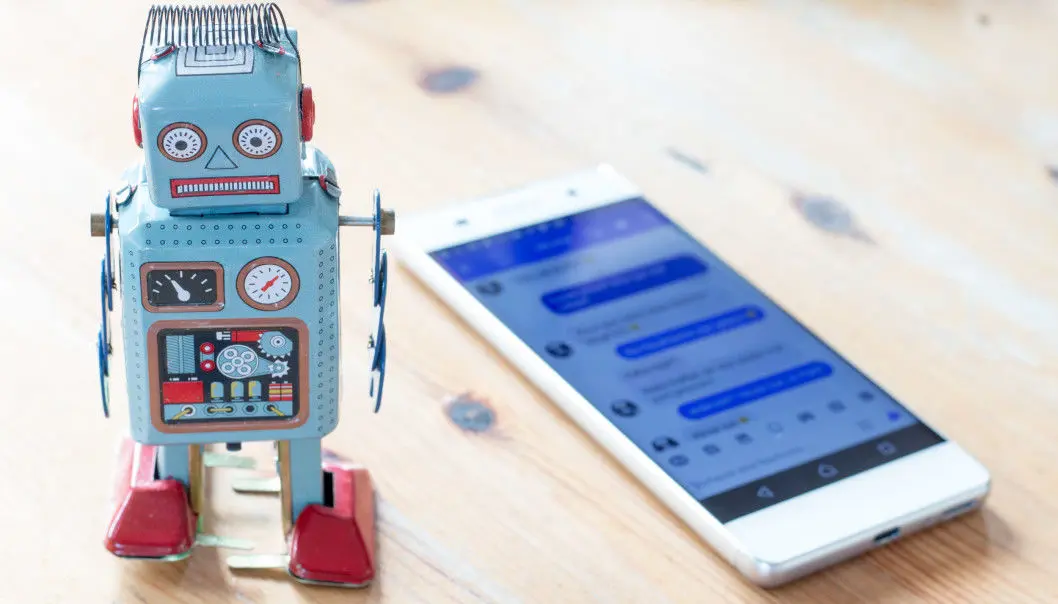 Can chatbots motivate people to be more active?
Chatbots used in social media with a public health purpose has great potential, new research shows.
Imagine waking up in the morning, taking a deep breath and grabbing your mobile phone on the nightstand. Suddenly a message pops up on Messenger stating that you really should go for a walk.
You have met a chatbot owned by a public health organization that tries to encourage you to lead a more active life.
Programmed with questions and answers
A chatbot is a software or an application based on statistical learning, statistical analysis and pedagogical theories. It aims to simulate a human conversation online.
The goal for the chatbot use in this imaginary example, is to get you out of bed and out for a walk.
Unlike artificial intelligence, which learns from its mistakes and makes "its own decisions", a chatbot is controlled by algorithms. It is programmed with every thinkable question and answer you might have on the subject.
"A chatbot in social media can send you a message encouraging you to exercise," says Dillys Larbi from the Norwegian Centre for E-health Research.
Back to the imaginary case: The reason why this chatbot chooses to send you a message on Messenger is that you have already been in contact with the Facebook page of the health organization in question.
"You may recently have chatted with it about overweight. You text with a chatbot like you would with a friend," Larbi explains.
Opportunities with health bots
The examples here are imaginary scenarios, but there are already chatbots used in the health field, such as the WHO Health Alert, a chatbot from the World Health Organization on WhatsApp. It provides covid-19 related information.
Together with colleague Elia Gabarron and computer researchers at UiT The Arctic University of Norway and Bern University of Applied Sciences, Dillys Larbi has summarized the research that has been done on chatbots from a health perspective. The findings are published in the journal IOS Press.
The conclusion is that there is little literature on chatbots and health. The research field is new, as well as the use of chatbots in social media in itself. But there is great potential for use.
Intervenes in health problems
"We found that the technology is mainly used as intervention, for instance to motivate people to lose weight or stop smoking. There is less research on use to improve general public health," Larbi says.
She explains that when a chatbot intervenes in people's health, the goal is to help patients become healthy. They may be clinically obese or diagnosed with type 2 diabetes. They may also be at risk for heart disease due to smoking, and could use a reminder that it's dangerous.
Whereas if a chatbot is to be used to improve public health, the goal is to encourage those who are already healthy with good habits, to stay healthy.
It can be as simple as being reminded to maintain good activities like walking.
Widely used in other industries
So far, few organizations have used chatbots to improve public health.
"We only found 15 studies that deal with chatbots and health, and only half of them were about encouraging lifestyle changes. So this is very new," says Elia Gabarron.
However, chatbots as a technology is not a new thing. We meet them when we are in touch with the bank or the airline. Lufthansa, for example, has a chatbot called Elisa. DnB also has one, and many other companies too. You find them on the website in the customer service section. You are often encouraged to use the chatbot instead of phoning up the company for help.
But from a health perspective, it is quite unexplored. That's why the potential is big, the researchers state.
"This being a novel field, there is an opportunity to tailor the technology to be more efficient," says Gabarron, who stresses that people can stop the messages from coming at any time:
"Encouraging messages can only work if people feel it gives them something. This is so new, we don't even know if people think of it as a good thing," Gabarron adds.
Can be useful in a pandemic
The corona pandemic highlights the need for measures that can change our habits and lifestyle. Many of us end up on the couch in front of the tv, instead of going out. Maybe messages from a chatbot can give you a push in the right direction?
­ "Social media can be useful to nudge people into more activity during a pandemic. We've seen that many people were less physically active, but more socially active online during the first wave of corona. However, there are differences between countries in this matter," Dillys Larbi says.
Reference:
Elia Gabarron et al.: What Do We Know About the Use of Chatbots for Public Health?, IOS Press, 2020.
About the research:
Summary by researchers Elia Gabarron, Dillys Larbi, Kerstin Denecke and Eirik Årsand from the Norwegian Centre for E-health Research, UiT The Arctic University of Norway and Bern University of Applied Sciences, Switzerland.

The objective of this work is to provide an overview of the existing scientific literature on the use of chatbots in a public health perspective.

The researchers found 15 relevant publications on the subject. Half were studies that tested the feasibility and usability of a chatbot. The other half were intervention studies, where chatbots were used to intervene in people's health issues.

All intervention studies reported positive health outcomes when using chatbots.
———