This article is produced and financed by

NTNU Norwegian University of Science and Technology

- read more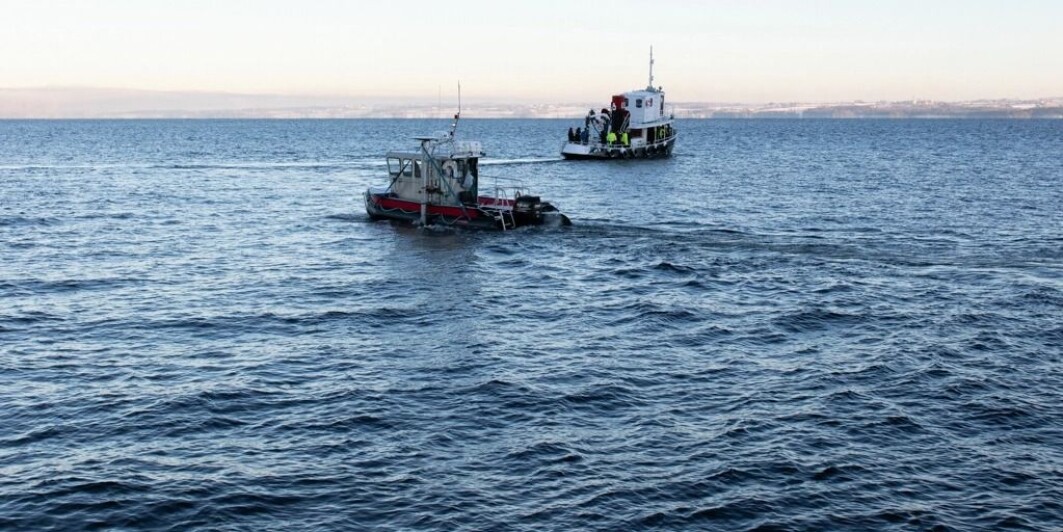 Could there be hidden viking ships at the bottom of Norway's largest lake?
We know that many sunken ships, trucks, and even ammunition has been dumped in Mjøsa, Norway's largest lake. This year saw the start of a large research project to discover what is hiding in the deep.
Today, Mjøsa is dominated by leisure boats and the Skibladner, the World's oldest paddle steamer still in use. But from before the time of the Vikings, Mjøsa has been an important waterway for both goods and people. Before the car and the modern roads, boats were the most efficient way to travel if you lived close to the lake.
There is a lot of history connected to the area around Mjøsa. Many clues to the past lie at the bottom of the lake. These clues are what researchers from NTNU in Gjøvik and Trondheim are going to unveil.
Ambitious goals
NTNU AMOS is heading the project, and altogether 16 researchers and students are involved. Senior researcher Øyvind Ødegård from NTNU AMOS and the NTNU University Museum is the project leader. Besides several NTNU departments, the project also includes local museums, municipalities and Mjøsa diving club. The Norwegian Armed Forces have also expressed interest in participating.
– We have wanted to increase cooperation between researchers in Trondhem and Gjøvik for a long time. When Pro-rector Jørn Wroldsen at Gjøvik suggested this project, we got very excited, says Øyvind Ødegård.
The project gathers archaeologists, engineers, biologists and many other experts.
– I think the project is very promising. We are a team consisting of many different people that is going to examine several different things at the same time. When you work together with people from other research fields you often get very exciting results, says Ødegård who is looking forward to getting back to field work after the Corona pandemic put a halt to such work for several months.
– Our ambitions are pretty high, and we plan to collect a lot of data. Up until now our knowledge of Mjøsa has been limited, but this project will rectify that, says Ødegård.
Drones, sensors and cameras
The researchers have already begun to map the ocean floor to look for historic shipwrecks, cars, dumped ammunition and other environmental hazards in select areas of Mjøsa.
To help them, they have an AUV (autonomous underwater vehicle) that will be programmed to operate within a set area, and five ROV (remote operated vehicles) drones from the NTNU AMOS Spin-off company Blue Eye.
The drones can reach a depth of 150 meters and are, among other sensors, equipped with a hyperspectral camera. This camera allows the researchers to use colours as optical fingerprints to identify and classify both biological organisms and archaeological material.
In addition, Espen Saastad is participating in the project with a larger ROV for use at greater depths, and a multi beam sonar from Kongsberg Maritime capable of creating high-definition 3D-models of the lake floor.
Cars, ammunition and a whole military convoy
Similar to how garbage has previously been dumped in the ocean, Mjøsa has been used to dispose of unwanted cars and even large quantities of ammunition from the local ammunition factory at Raufoss. The area where this dumping took place is close to where 100 000 people get their drinking water, and the project will help examine whether the ammunition could pose a health risk.
– This is an issue that it is quite critical to find answers to. There are also other areas where we know ammunition has been dumped and we will also examine those locations, says Ødegård.
During WWII a whole Norwegian military convoy was lost in the lake. Managing director at Mjøsmuseet, Arne Julsrud Berg, tells us that during the German invasion of Norway a Norwegian military convoy was on its way to resupply Norwegian forces further north. As the bridge had been blown up earlier in the campaign, the Norwegians decided to try crossing the frozen fjord by driving on the ice.
– The convoy got stuck in the ice between Eidsvoll and Toten. All the drivers got out safely, but all the vehicles, including several lorries, passenger cars and a buss, eventually sunk, says Arne Julsrud Berg.
The area where the convoy disappeared is one of the places the researchers will examine in detail.
Viking ships
Even more exciting is perhaps the possibility to discover far older wrecks. We know that Mjøsa was teeming with activity during the Viking age and medieval period. It is not farfetched to suspect that one or several of these ships lies hidden beneath the waves.
– If we found a medieval ship, we would really be hitting the bullseye, it would be fantastic, but we don't dare to hope yet, says Ødegård.
The researchers have some clues to guide them, however. In the early 80s, when the Mjøs-bridge was being built, a diver reported that he had seen a large rowboat approximately 20 meters long. Few rowboats of that size has been built in Norway since the medieval period.
– This is an oral, undocumented story, so it is all very uncertain, but the depth in the area is only 80 meters, so it is possible for us to examine this in detail, says Ødegård, and adds that chances are big that they won't find anything. Nevertheless, the possibility is exciting.
Digital twin
The data collected will be used to develop a digital twin for the lake. This will be fed by different sources from historical maps, ocean-floor data, 3D-models, seismic data, aerial photographs, biological observations and satellite data.
The combination of so many different sources will allow us to visualize patterns and se connections you can't see any other way.
Gjøvik municipality is an important partner in the project and are planning to use the digital twin in their management of the lake.
Further research
The project will continue into 2021 and the researchers plan an expedition in March when the northern part of the lake is, hopefully, covered in ice. This time biology will be the focus, and NTNU AMOS key scientist Geir Johnsen will lead that part of the project. Besides biological data, this will provide a great opportunity to gain valuable experience in underwater robotics operations, a key area for NTNU AMOS. The researchers also hope to come back in the summer when the lake sees more biological activity. At any rate we are about to know a lot more about Norway's largest lake than we previously did.