THIS ARTICLE/PRESS RELEASE IS PAID FOR AND PRESENTED BY THE
University of Agder
- read more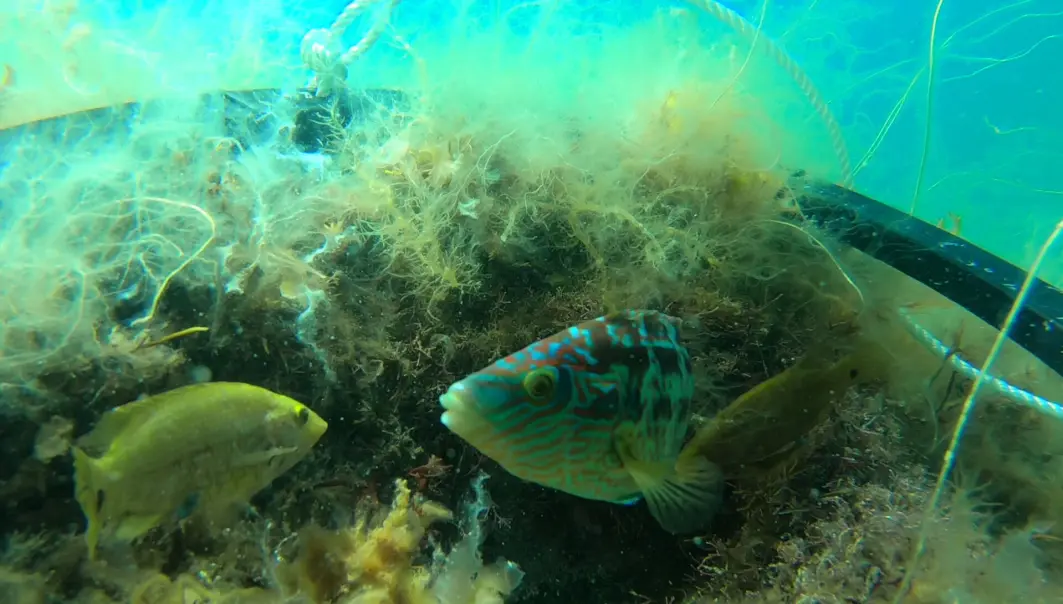 Fish and plankton are counted and monitored by artifical intelligence
Marine biologist Kim Tallaksen Halvorsen calls it revolutionary, the research being done using sonar, camera and artificial intelligence along the coast of southern Norway.
"This is an interdisciplinary success story and a revolution within marine research," says Kim Tallaksen Halvorsen, marine biologist at the Institute of Marine Research at Flødevigen.
Monitoring of plankton and fish stocks along the Skagerrak coast was previously done manually by marine scientists. Now they use artificial intelligence to observe marine life.
Cameras, sonar, sensors and other equipment are loaded with artificial intelligence. The algorithms count the fish and plankton, monitor the size of the fish, and can even distinguish one fish from another.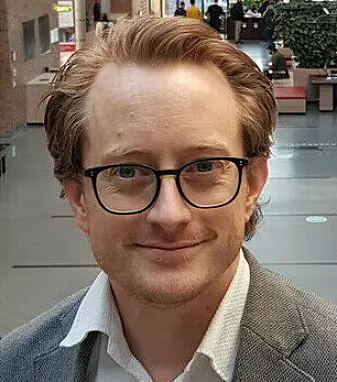 "Artificial intelligence frees up time for the researcher, but also provides more observations and more information. In addition, the observations are more certain. Artificial intelligence cameras do not get tired, they are attentive all the time," says Halvorsen.
Introduction to artificial intelligence
Together with several others from the University of Agder (UiA) and the Institute of Marine Research, Halvorsen is publishing a new study on artificial intelligence, marine research and mechatronics. The article is accepted for publication in the ICES Journal of Marine Science.
There they present three successful joint research projects between UiA and the Institute of Marine Research. UiA is represented by researchers from the Centre for Artificial Intelligence Research (CAIR), the Top Research Centre Mechatronics (TRCM) and the Centre for Coastal Research (CCR).
The article aims to provide an introduction to artificial intelligence. In addition, it shows how interdisciplinary collaboration, and the use of artificial intelligence, can open up new research fields in the future.
Artificial intelligence in marine research
The use of artificial intelligence is new to marine biologists, but Halvorsen is already very optimistic. He calls it a revolution, what he and his colleagues are doing with the help of artificial intelligence along the coast of southern Norway.
"Observing and counting fish used to be manual tasks, where we had to comb through hours of film footage to find the information we were looking for. Just measuring the length of a cod requires a picture where the front and back parts of the fish are clearly visible. The work is very time consuming. With artificial intelligence, taking observations is automated. We get the number of different fish species, sizes and other observations immediately," says Halvorsen.
Coast Vision is one of the research projects highlighted in the article. Artificial intelligence is used to distinguish and recognise different fish species, but also to recognise individual fish. This is possible because several species have distinct patterns that are unique to each individual. This is true for species such as corkwring wrasse, ballan wrasse, salmon and cod.
"We use the same technology that is found in mobile phones. When we can monitor fish on an individual level over several years, it will give us new and more certain insight into how the fish live," says Halvorsen.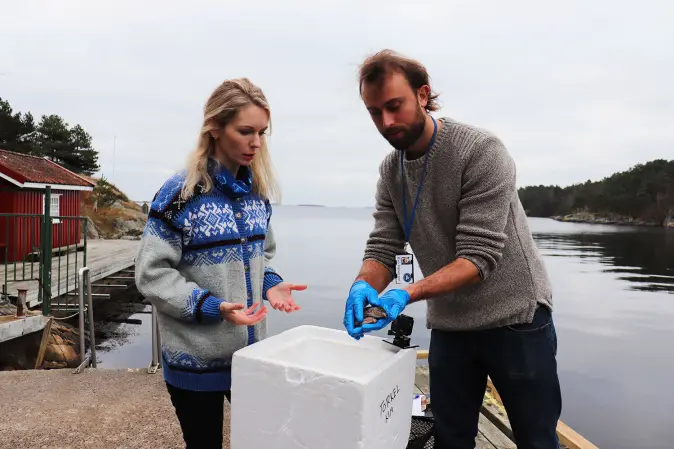 New research
Artificial intelligence is more gentle than traditional research methods according to the researcher. The traditional method used by marine scientists is to capture, then sedate and tag the fish. Halvorsen estimates that he has caught and tagged 3000 to 5000 fish a year in this way.
"With artificial intelligence, we avoid having to catch, sedate and microchip the fish. This means that we can be less intrusive to marine life, and still obtain more information," says Halvorsen.
In the Coast Vision project, the researchers have monitored the growth and behaviour of individuals over time only using camera observations and artificial intelligence. This has not been done with natural fish stocks before.
Halvorsen believes that in the future, artificial intelligence will help us monitor and understand changes in the ocean when they occur.
"We can get information about the health of the Skagerrak in real time, and thus be able to initiate immediate measures if something is urgent," Halvorsen says.
Interpreting large amounts of data
"Marine ecosystems are large and complex, and so is the amount of data needed to understand the system," says Rebekah Alice Oomen.
She is a marine biologist at UiA and the University of Oslo and one of the researchers behind the new study.
She emphasises that the challenge is not to find, but to analyse the enormous amounts of data.
"While we used to spend an awful lot of time reviewing and interpreting data, we can now leave that task to artificial intelligence," she says.
She underlines that the aim of the new study has simply been to make artificial intelligence tools available to marine biologists.
"The work has focused on new applications of mechatronics and artificial intelligence to collect and interpret big data," Oomen says.
Big data is defined by Store norske leksikon as data that is too large or complex to be processed using traditional methods.
Artificial intelligence is a new field for Oomen as a marine biologist. She was impressed by how much variation there is within the field, and how different the algorithms can be.
"The greatest surprise, however, is that artificial intelligence boils down to a few but fundamental aspects. It is about discovering the object, classifying it, and separating and isolating a specific fish, for example, from what has nothing to do with that fish," she says.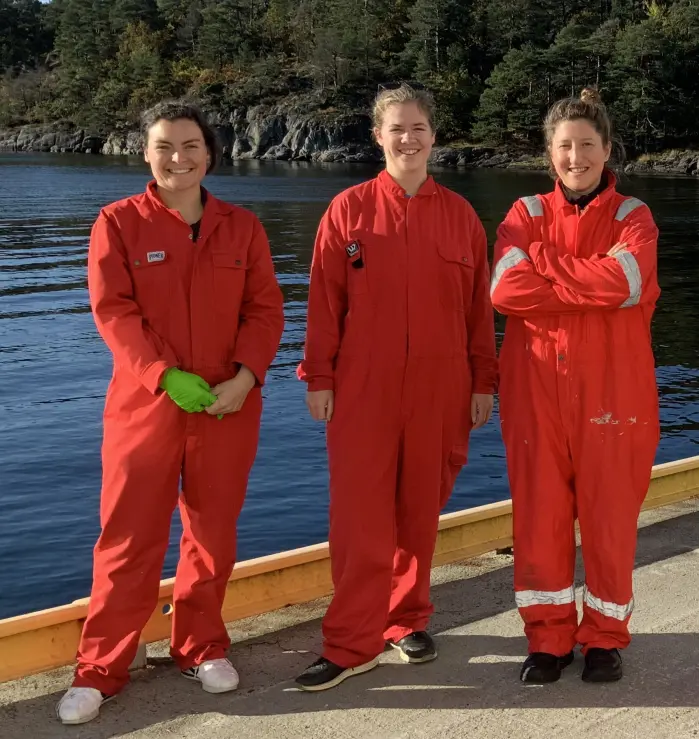 Uncontrolled natural environment
Research in what researchers call unstructured environments - natural areas where
the scientist does not have control over everything that happens - is exciting for mechatronics researcher Kristian Muri Knausgård.
He is an expert on real time and embedded systems and works to get multiple robots and automated processes to work together simultaneously.
"What is interesting about this, is that we are not testing actions in a controlled environment inside a factory, but outside in the open where not everything can be controlled. To carry cameras, echo sounders, sensors and other equipment for use in seawater, you need equipment that can handle varying visibility and light conditions, wind, waves and other natural phenomena in the sea," Knausgård says.
Educating each other
"Biologists and technologists have different approaches to research. We speak different languages, so we have to educate each other about our respective fields," says Tonje Knutsen Sørdalen, marine biologist at UiA and a co-author of the new study.
She emphasises that mutual understanding between biologists and technologists is crucial for artificial intelligence to contribute relevant information at all.
"When we understand each other, we can create datasets that are optimal and give us the data we are looking for," she says.
Sørdalen says that one of the objectives of the new research article is to make biologists aware of the basic technology terms and expressions that are necessary to understand the field.
"Technologists, on the other hand, must learn about what is essential and non-essential to include in an observation. I think they had some eye-opening experiences concerning the demanding and partly chaotic data we work with, for example," she says.
Machine sees more than humans do
Sørdalen points out that marine scientists can only interpret a fraction of the enormous amounts of data they collect. Due to turbid water, for example, it can be difficult for the naked eye simply to distinguish the object to be analysed from the background.
"This is where the machine vision of artificial intelligence can help us. It can give us a more objective analysis. Since artificial intelligence can observe the fish better than the human eye can, we can collect a lot more data than we do today. We can keep the camera going for a full year. Cameras that monitor over a very long time can give us completely new information," Sørdalen says.
An interdisciplinary success story
Professor Morten Goodwin believes that the key to interdisciplinary expertise is collaboration and mutual training over years.
"Interdisciplinary expertise is built up over time. As an artificial intelligence researcher, I have to understand what a fish is before being able to collaborate well with marine scientists, while they in turn must understand what can be achieved with artificial intelligence," Goodwin says.
UiA's research centres in mechatronics, coastal research and artificial intelligence have collaborated since the oldest of the centres was established more than five years ago.
"Today, 20 to 30 researchers from these centres meet about once a month to discuss ongoing and new research projects," Goodwin says.
He believes the recently published study can inspire other universities and researchers at home and abroad to focus on artificial intelligence and interdisciplinary collaboration.
"The purpose of our study is precisely to open up the field of artificial intelligence to other researchers. When we started the project, I was surprised at how little artificial intelligence is being used in other fields. But that just shows how much the research world needs the kind of introductory study that we just published," Goodwin says.
Reference:
Morten Goodwin et.al.: Unlocking the potential of deep learning for marine ecology: overview, applications, and outlook. ICES Journal of Marine Science, 2021.
The researchers behind the study
The researchers behind the new study are, in alphabetical order, Morten Goodwin, Kim Tallaksen Halvorsen, Lei Jiao, Kristian Muri Knausgård, Angela Helen Martin, Marta Moyano, Rebekah A. Oomen, Jeppe Have Rasmussen, Tonje Knutsen Sørdalen and Susanne Huneide Thorbjørnsen.
———