An article produced and financed by
NIKU - Norwegian Institute for Cultural Heritage Research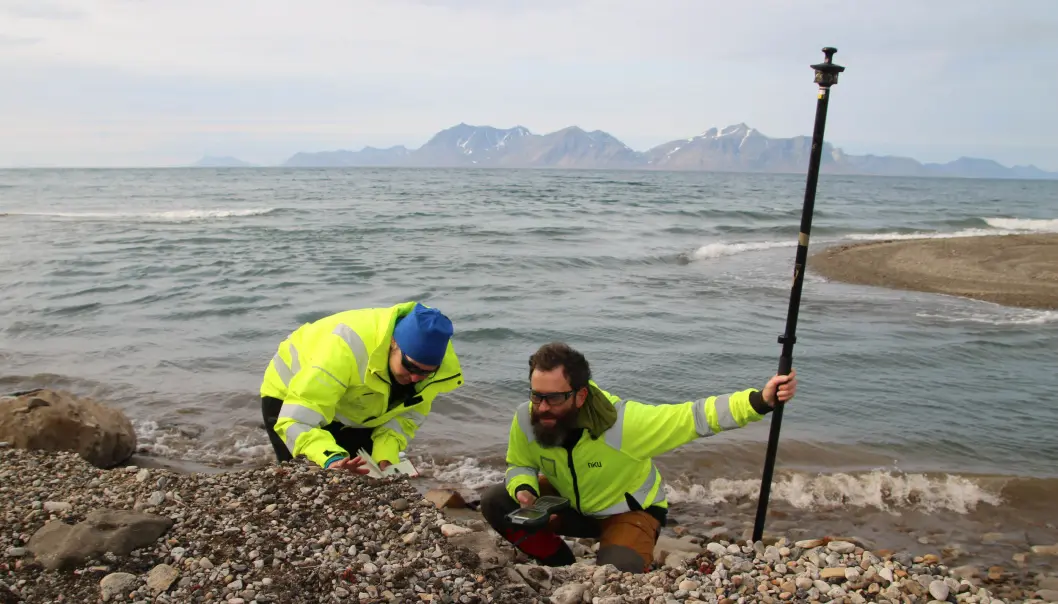 Scientists stumble upon an unknown grave in Svalbard
But the grave and the story behind it is already disappearing in the fjord.
The multidisciplinary research project CULTCOAST recently completed field work at a well-known cultural heritage site at Russekeila on Cape Linné in Svalbard.
At the water's edge scientists accidentally discovered a partially eroded unknown grave.
- In the grave we see extremely fine knitted textile residues, woven textiles, wood scraps and metal. Based on this, we believe that this can date from the 16-1700s, says archaeologist and head of the research project Vibeke Vandrup Martens from the Norwegian Institute of Cultural Heritage Research (NIKU).
An unknown grave is not uncommon for an archaeologist. But this grave, which is an automatically protected due to the Svalbard Environmental Protection Act, is about to disappear completely.
- Here we see a classic example of cultural heritage that is about to disappear completely before we get the opportunity to learn anything from it. And that's quite sad, says Vandrup Martens.
- We do not know why it is down here and not together with the more well-known graves of the Russekeila settlement. Maybe this person died on a boat, and was buried here in haste, she continues.
How can we preserve cultural heritage in the Arctic?
Martens, who has reported the grave to the Governor, is in Svalbard to map, monitor and collect data together with a multidisciplinary research team.
The Arctic act as a sensor and early warning system for the rest of the world. And right now, the Arctic is experiencing rising temperatures, thawing permafrost and increasing rain.
- This grave would probably end up in the fjord sooner or later anyway. But what we do know is that climate change speeds up these types of processes, says Martens.
And it is these climatic changes in Arctic coastal areas that the scientists now are seeing the effects of.
- We are trying to develop better methods so that the authorities can be better prepared when it comes to limiting damage, preserving and managing endangered cultural heritage sites in an increasingly warmer climate, says Martens.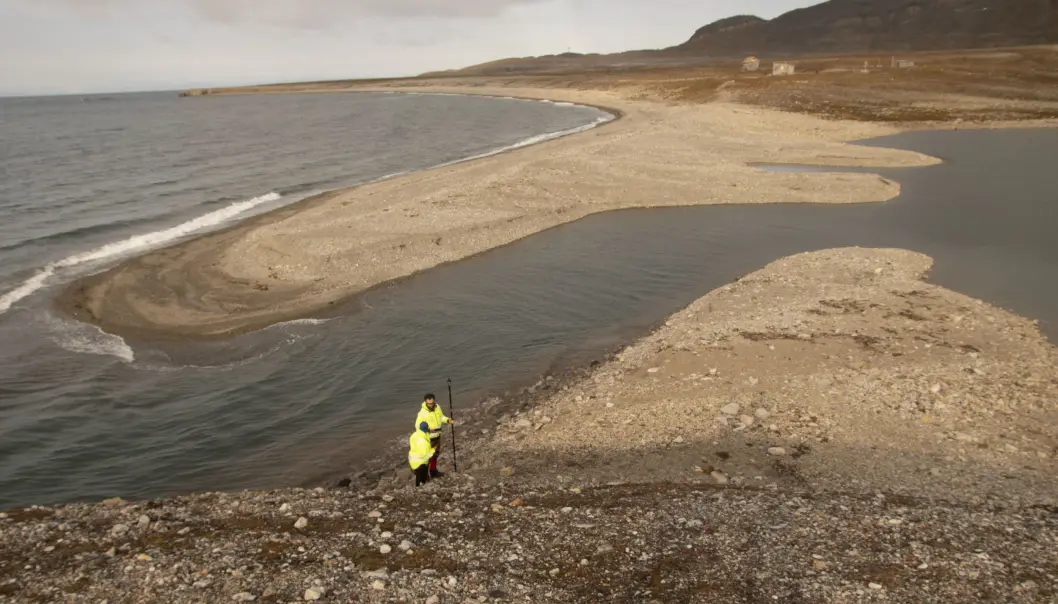 Cultural heritage is threatened by both nature and people
Cultural heritage sites in Svalbard:
In accordance with the Svalbard Environmental Protection Act of 15 June 2001, all cultural heritage that is physically attached to the ground or associated with a specific locality cultural heritage from before 1946 are automatically protected.
The researchers behind CULTCOAST will investigate the climate impact on cultural heritage and cultural environments in northern parts of Norway but also see these related to the impact of tourism.
The cultural heritage site at Russekeila provide a good example of a site that is threatened by both direct coastal erosion and lack of knowledge of cultural heritage, says Vandrup Martens.
- The site of Russekeila is in a safer spot. But it is clearly threatened by visitors who do not pay enough attention to the vulnerable and demolished building remains and graves, says Vandrup Martens
- It is not easy to say whether this is due to lack of knowledge or lack of interest and awareness, she continues.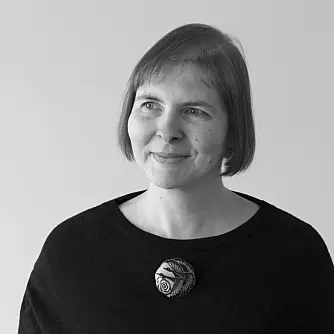 The researchers found similar issues in Hiorthhamn, a closed mining community east of Longyearbyen.
- Hiorthhamn is also a very good example of a cultural heritage site that is threatened by several geo-hazards such as soil erosion. Ande here it can also be difficult to see and understand that these are protected cultural heritage sites, says Anne Cathrine Flyen from NIKU, she is a buildings antiquarian and team member with an extensive career in the Arctic
And an important part of the CULTCOAST project focuses precisely on people and the growing tourism industry in Svalbard.
Therefore, while archaeologists, building antiquarians and geologists are doing investigations outdoors - Cecilie Flyen from SINTEF Community conducts interviews with both the local administration and local users such as the tourism industry and their guides.
- We want to map practices and behavior to contribute to both better understanding and to propose concrete measures that contribute to how cultural heritage sites can be preserved despite this increasing stress.
In addition to the Cecilie Flyen, Lena Rubensdotter from NGU also participated in the field work. She is involved in bringing much needed geological expertise. From NIKU, Ionut Cristi Nicu, a geographer from the High North Department also participated in the field work.
By bringing in the geologists, the scientists can make a more realistic prediction to what is an actual threat to a cultural heritage sites rather than guessing what causes sites like the unknown grave to disintegrate.
- It is a great strength that we have all these disciplines in our project team, says Vandrup Martens.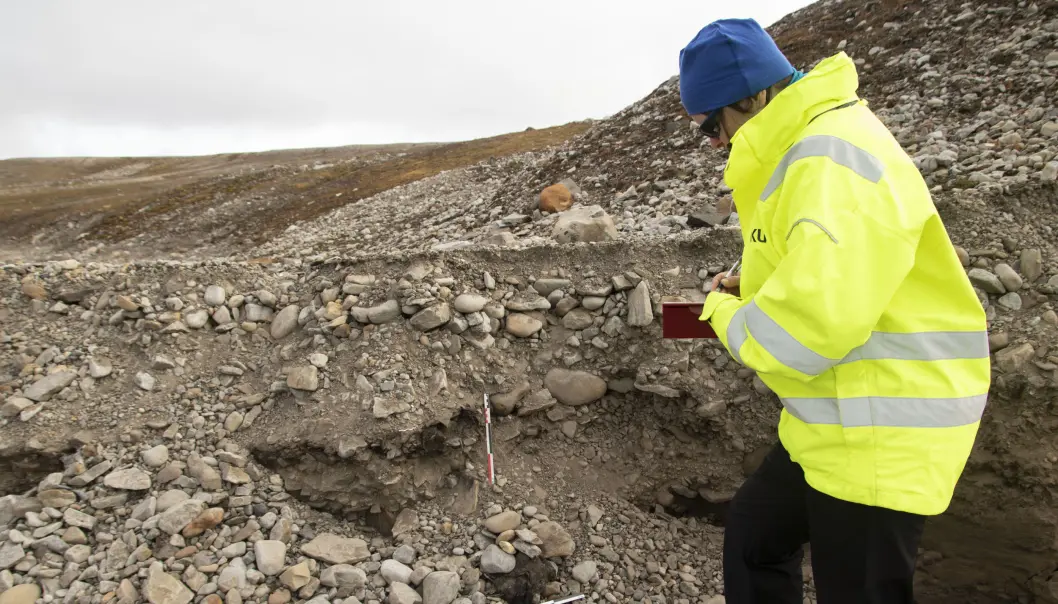 Last chance to see?
The researchers will now process the data and report the findings. In 2020, they move to Andøya in Troms, one of northern Norway's mainland coastal areas.
Here, the team will continue their study of exposed and vulnerable cultural heritage sites and talk to people living and working with or near them.
Arctic cultural heritage is often damaged and difficult to spot. But according to Vandrup Martens, they are wonderful sources of information if you know how to find it.
- It's like opening book in a foreign language, unless you learn that language you can't make much sense of it – but when you do you can read so much from it, says Vandrup Martens.
- And it is important to document the pages before they disappear completely.
About CULTCOAST
The goal of CULTCOAST is to find the best methods for monitoring, managing and preserving coastal cultural heritage sites that are exposed to threats in the form of climate change and developmental pressures.
The researchers will map, monitor and collect data from selected sites - both above and below the ground - on Svalbard and in Andøya.
The project is led by NIKU, with participants from NGU, SINTEF Community, USN and St. Andrews University in the UK.